Finally, it's BCB time again - our very special bartenders' Christmas where plenty of friends and colleagues from around the world get to meet up at Bar Convent Berlin. As a special treat, THE BLEND has come up with something to sharpen your pro skills, treat your tastebuds and awaken your inner sensei. "Master your craft" invites three international mentors to share insights from three Japanese philosophies (Ikigai, Danshari, Shuhari) and bring them to life in our own workshop space THE BLEND Dōjō. Registration is open to all members of THE BLEND.
So, what are these skill-honing sessions all about?
IKIGAI - FIND YOUR PASSION
"What matters is the joy of the moment."
Juliette Larrouy of Barcelona's Two Schmucks starts with the concept of IKIGAI: this one is all about finding your passion and using it to inspire and power your everyday work. Juliette's personal passion is to make her guests smile, ideally by triggering positive emotions through specific flavour combos designed for a great night out. Join Juliette to explore your own ikigai and get inspired by the feelings conjured up by different aromatic combinations.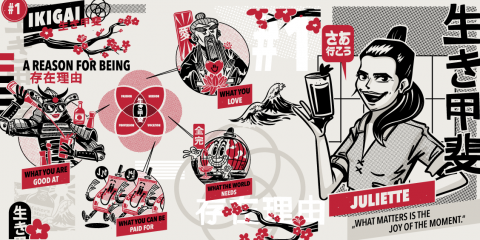 DANSHARI - FOCUS
"Focus means each element should be distinct and Purposeful."
The name of Remy Savage's bar may be irritating at first, but its concept is crystal-clear. His Bauhaus-inspired London bar translates Remy's love of fine art and fine cocktails into a razor-sharp focus on style, drinks even fashion: every night, he serves up some of the UK capital's most exciting drinks dressed in a blue one-piece. So, what's your focus? Which blade will you sharpen on your journey to sensei status?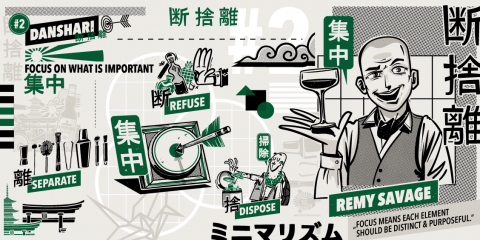 SHUHARI - PATH TO MASTERY
"The more questions you ask in life, the more knowledge you gain. Knowledge is power!"
The paths to perfection are manifold and often quite convoluted. Sometimes, it takes half a lifetime of eating ice-cream to develop your perfect technique for drinks. This is the path Iain McPherson of Panda & Sons has chosen - learning, mastering and finally improving one specific technique. His very own "switching" approach allows Iain to create ever-new taste sensations, so prepare to be dazzled. And beyond a mountain of ice-cream ... you may discover a brand-new insight and idea for your next bar shift.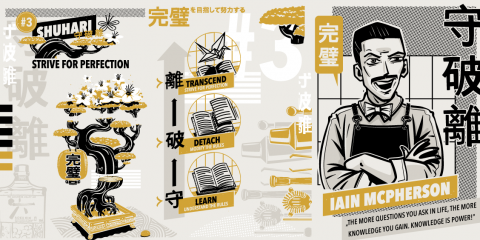 Each day at BCB, we will focus on and celebrate one of these philosophies at our THE BLEND Dōjō. Make the most of your chance to learn from our three senseis to expand your own expertise. We recommend early registration since spots in these workshops are strictly limited.