Robin Nance doesn't beat around the bush. She admits her career in hospitality began when her modelling career expired. She never lied about not making it to college when she entered the corporate world. She didn't pretend winning best American Brand Ambassador came from her work alone, and she openly shares her struggles on social media to show others they're not alone. These are the things that make Robin who she is, and she can stand proud as the Senior National Portfolio Ambassador at Beam Suntory in the USA, where she is an inspiration to the trade. In this interview, Robin shares her thoughts on the taboo subject of awards, why the pandemic forced a change that was needed in the American hospitality industry, and why you don't need to have it all to rise to the top.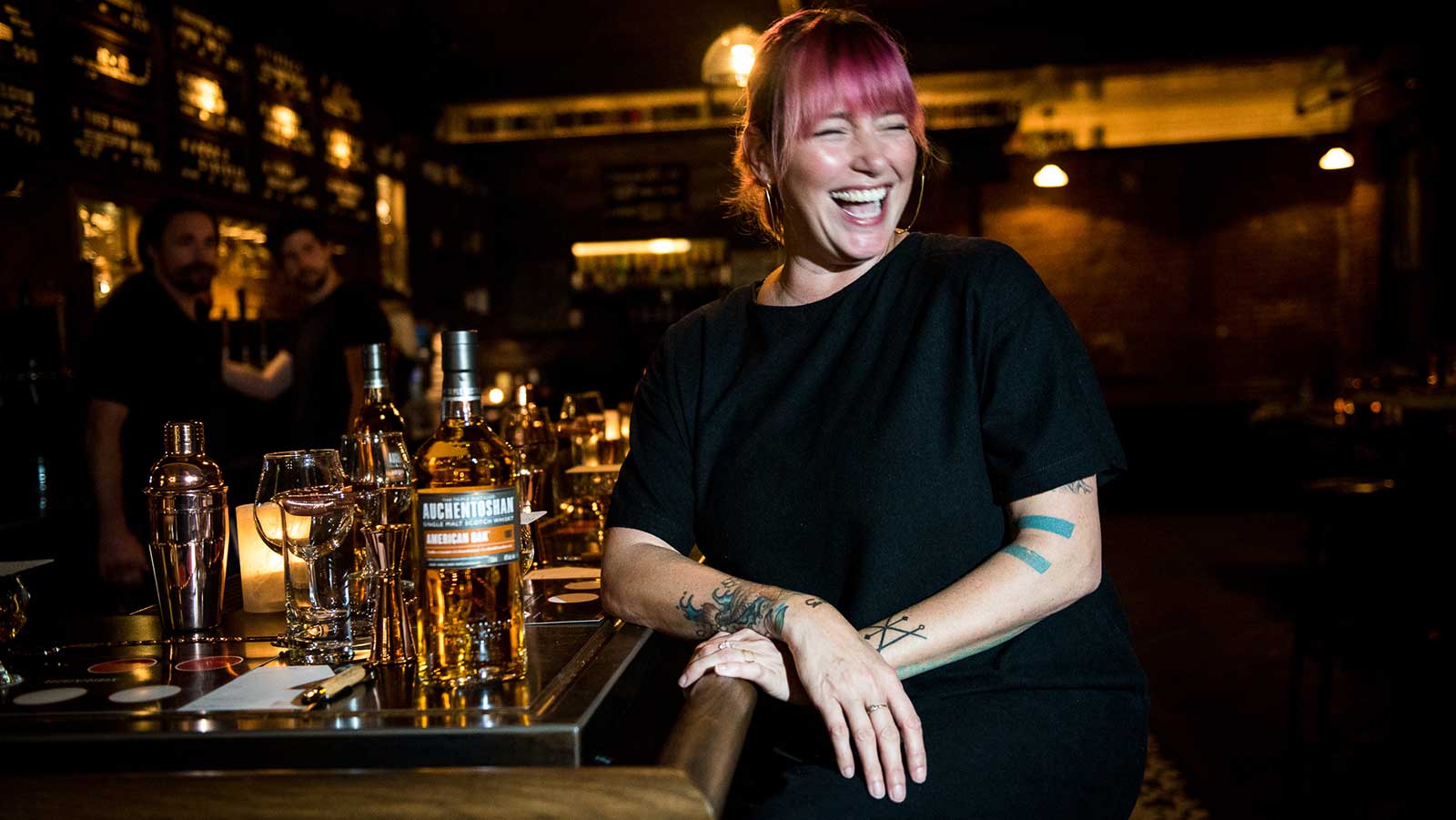 YOU ARE BASED IN CHICAGO. TELL US A LITTLE ABOUT YOURSELF, YOUR BACKGROUND AND ROLE AT BEAM SUNTORY.
I started modelling in high school and as soon as I graduated, I was off to New York. It's not all the glitz and glamour you imagine for most models and to make ends meet, I got a job as a host in an Italian restaurant. By the ripe old age of 26 (haha), I was 'too old' to continue modelling, so I went back to my hospitality roots and rose from server to bartender, to manager and finally Director of Operations for 12 restaurants in Los Angeles. In 2012, I moved to Chicago and not long after, I was approached about a job as an Ambassador for a whisky company. In 2014, when Suntory purchased Beam Global, I went to work as the National Auchentoshan Ambassador at Beam Suntory. In 2017, I wrote a proposal for my current role (which didn't exist at the time) and I've been doing that ever since. Now I represent the entire portfolio through trade events, The Blend USA, and our partnership with the USA Bartenders' Guild.

CONGRATULATIONS ON BEING NAMED BEST AMERICAN BRAND AMBASSADOR AT THIS YEAR'S TALES OF THE COCKTAIL'S SPIRITED AWARDS. WHAT DOES THE AWARD MEAN TO YOU?
Thank you so much! It's honestly still so overwhelming. I am good friends with so many Ambassadors who are all doing great work. It's incredibly special to win an award that is voted on by your peers. I am supported by, in my opinion, the greatest team of Ambassadors in the world who push me to do and be better every day.


WHAT DO YOU THINK AWARDS DO FOR THE INDUSTRY AND HOW DO YOU FEEL THEY BENEFIT A VENUE, BRAND OR INDIVIDUAL?
Awards have become such a taboo subject. I think it's important to embrace joy wherever you can find it. Awards - especially those voted for by peers - are a reminder of the amazing results of yours and your team's hard work and dedication. They are something you can share with your community as a way of saying 'thank you'. For an individual, it can be a powerful addition to your resume that opens new doors to your future. For venues and brands, it shows how much you put into providing a quality product, experience and talented team to your audience. No award is an individual award; no one gets to the level of winning awards alone.


YOU RECENTLY LAUNCHED THE BLEND, USA. AT SUCH A CRITICAL TIME IN THE INDUSTRY WITH COVID-19, HOW HAS IT BEEN RECEIVED?
The feedback so far has been great! We haven't done a big push outside of social media, so it's building slowly until the USA industry returns to a more stable place. Our goal is to provide the tools our trade members need right now and to be there to support them during their rebuild.


THIS YEAR HAS COME WITH ITS CHALLENGES. HOW ARE YOU INSPIRING AND CONNECTING WITH BARTENDERS IN YOUR MARKET DURING THIS TIME?
It's important to be available to listen. I try to ask questions around our trade members' needs and then really listen to what they say. Then I can use that to build tools within our programs that fit their needs. I'm also known for being quite open on social media and sharing my struggles openly helps others to know they're not alone and hopefully normalizes difficult feelings. I realise this isn't for everyone, but it's a big part of who I am. I don't have a brand profile and a personal profile; what you see is what you get.


DO YOU BELIEVE THE PANDEMIC WILL CHANGE THE INDUSTRY FOR THE LONG-TERM AND WHAT CAN THE INDUSTRY TAKE AWAY FROM THE PANDEMIC SO WE ALL COME BACK STRONGER?
I hope so. The pandemic shone a spotlight on issues in the industry. We had an opportunity to take a step back, look at where change was needed and move forward to a more sustainable business model. I hope that we embrace this opportunity and don't revert to a flawed system because it's comfortable. The hospitality industry employs a massive number of people and we can enact real change, such as getting more involved with our communities and government.


YOU'RE AN INSPIRATION TO MANY IN THE INDUSTRY. WHAT ADVICE CAN YOU OFFER TO THOSE STARTING THEIR CAREER WITH THE VISION TO GET TO WHERE YOU ARE TODAY?
My favourite quote is: "The answer is always 'no' if you don't ask." It's okay to ask questions; it's okay not to know the answers. That's how we grow. My current role didn't exist, but I saw a need in the business and asked for it. If there's a job you want but you don't know if you're qualified, apply anyway. Then take that list of qualifications and seek out mentors who can help you to build confidence in the areas you feel you need it in. If you get the interview, don't focus on saying the 'right' thing. Ask questions that you can learn from. So often we dismiss the skills we bring to the table because they aren't on some arbitrary list. Finally, you'll be great at anything you're passionate about. Skills and jobs can be taught. but passion can't. If it doesn't build fire in your gut, move on.


IF YOU COULD SHARE A CAREER HIGHLIGHT WITH US, WHAT WOULD IT BE?
I never went to college and for a while, I was ashamed and worried that would prevent me from growing my career in a corporate world. About three years ago, Beam Suntory was approached to build a beverage management pathway in cooperation with our city colleges. It was a project brought to us by our mayor to support and ensure the growth of hospitality in Chicago. Somehow, I ended up leading the project and I'm proud to say that it will be launching in the autumn of 2021 and is the first of its kind in America. Not only that, but I now sit on an advisory board of a college, despite being someone who never stepped foot in one. Anything is possible.