Laphroaig® Triple Wood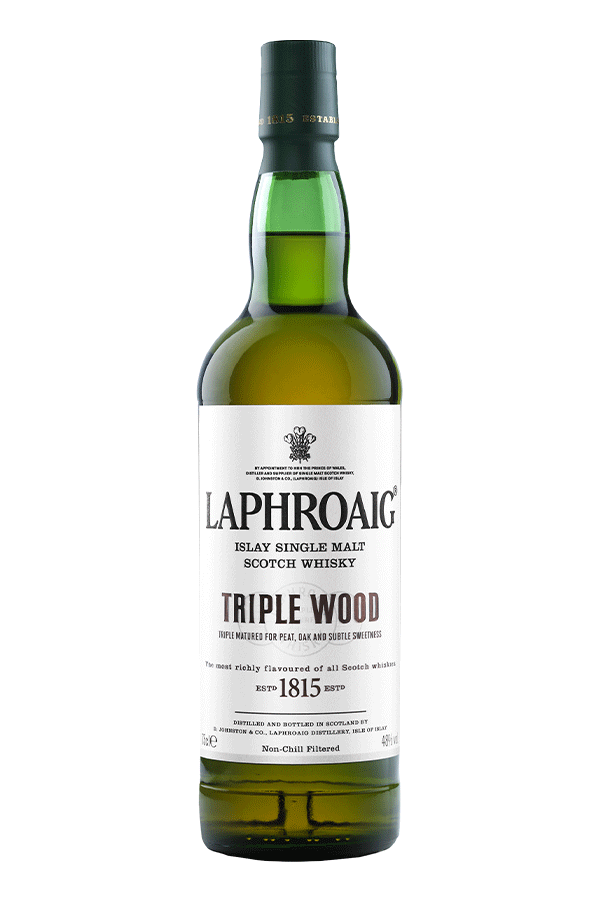 This expression of our famous whisky, from the remote island of Islay in the Western Isles of Scotland, has enjoyed a triple maturation in 3 types of cask. Just as with our standard Quarter Cask expression, the first maturation is in American oak, ex-Bourbon Barrels. We then select the most suitable of these barrels, containing a range of different aged spirit and transfer into small 19th Century style Quarter Casks for a second maturation. The final maturation is in specially selected, large European oak, Oloroso Sherry Casks.
It is bottled at 48% ABV and is non-chill filtered for a depth of taste and texture.
COLOUR: Bright gold
BODY: Powerful yet with a creamy consistency.
2013 Beverage Tasting Institute (BTI) – Gold Medal
2013 SF World Spirits Competition – Gold Medal
2013 International Spirits Challenge – Silver Medal
2013 International Wine & Spirit Competition – Silver Medal
2012 San Francisco World Spirits Challenge
Silver Medal, Laphroaig Single Malt Scotch, Triple Wood
Aroma
At 48% ABV, the initial flavour is quite sweet with a gentle mixture of sweet raisins and creamy apricots and just a trace of the dry peat smoke at the back. With a touch of water, the peat smoke comes to the fore and masks the gentler fruitier notes.
Taste
An initial burst of peat is gentled on the tongue by the creamier flavours of vanilla and fruit with a suggestion of sherry sweetness. Add water, the peat reek is calmed, allowing the more complex flavours of citrus fruits and spices to come through.
Finish
Mouth filling and extremely long but balanced by the sweet smooth caramel taste.
---