Meet Drew Fleming, Manx hospitality campaigner
Drew, the winner of the very first 50 Best Bars The Blend Scholarship, takes over The Blend, unveiling the secrets of our hospitality community on the Isle Of Man and the backstage of life on an island... Meet Drew and follow his journey. Welcome on board!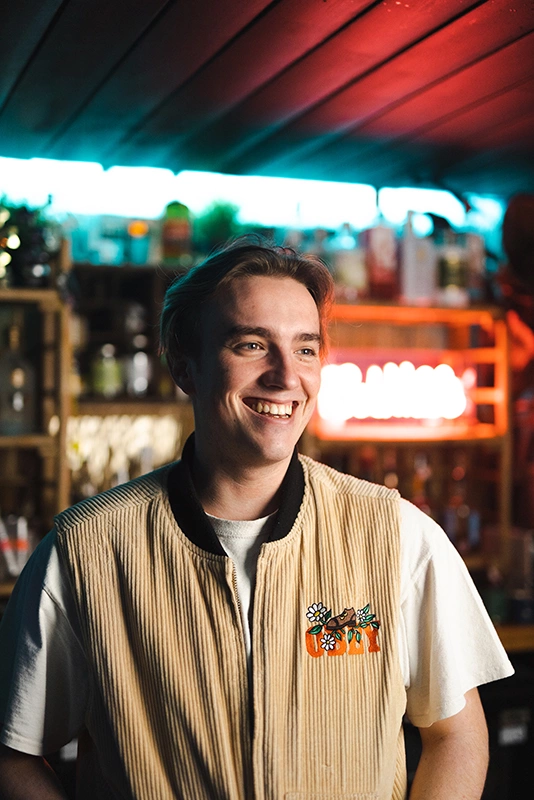 NAME
Drew Fleming
SOCIAL HANDLES
ROLE IN THE HOSPITALITY
PREVIOUS EXPERIENCES
At 14, I got my first part-time job washing dishes and plating desserts at a cozy pub close to my home. I spent 5 years there, eventually graduating to Front of House. Looking back, it truly introduced me to a career in our industry and unlocked the desire I feel to deliver real and warm hospitality.
During my last year of high school, I got a job at a pop-up nightclub in Douglas, our capital city home to 29,000 of our 85,000 residents. It was safe to say this was the barbed hook that tethered me to a career in hospitality. I loved being around people, helping create experiences, and exceeding their expectations. My role within the company (Extra Fancy Limited) grew whilst I was attending University on-island, studying Event Management and Marketing.
In the midst of the pandemic, a decision was made to pivot half of the nightclub into a more 'COVID friendly', table-service bar, which became Kiki's Tiki Lounge. It was an exciting change of pace that allowed me to discover and indulge in more refined drinks whilst embarking on a crash course in a new style of service. Long story short, I loved the transition to quality drinks over quantity.
Shortly after my studies wrapped up, I joined Extra Fancy Limited as a Director, alongside my mentor and now business partner, Jamie Lewis. In 2022, I entered the 50 Best Bars The Blend Scholarship, leaping at an opportunity too good to miss. Diving in wholeheartedly, I managed to secure a place in the top 3 in Barcelona, before being named as the grateful first recipient of the international accolade.
Fast forward to the beginning of this year, I'm about to embark on 3 life-changing stages with equal parts effervescent anticipation and excitement coursing through my veins!
TELL US ABOUT YOUR THEME
I'd love to use this opportunity to show my home island to the world! Navigating the hospitality landscape in a nation whose population could fit inside Wembley stadium presents remarkable uniqueness, perks, and challenges. I want to share these differences with The Blend community and hopefully provide you guys with some interesting insight! I'll be covering things like island innovation, sustainability, and seasonality (of both venues and produce) alongside the tightrope of nurturing a strong hospitality community, whilst competing for a finite market share.
WHAT DO YOU DO OUTSIDE OF WORK?
Spending time with my family

I'm guilty of bingeing one-too-many Netflix shows!

Walking my dog, Georgie. She's a cross between a Dachshund and Jack Russel.

Fishing (weather permitting of course!)
WHAT ARE YOU THE PROUDEST OF?
Most recently, I won the inaugural 50 Best Bars The Blend Scholarship. Which I'd say is my biggest career-based achievement to date.

With my business partner, Jamie Lewis, we co-own two bars on the Isle of Man. Kiki Lounge, a table service basement bar that takes inspiration from tropical paradises - looking to provide escapism! We also have Moonlight Club, the 80s/90s-themed late-bar that's geared more towards high volumes of custom!

I was named as the 2022 recipient of the Isle of Man's Awards for Excellence award for 'Young Ambassador of the Year'. Given to individuals under 30, who have made contributions to raising the Island's global profile through their professional careers.
WHAT'S NEXT?
I'm really looking forward to traveling this year. Winning The Blend Scholarship means I'll be embarking on a trip to London and New York. I can't wait to learn first-hand from some of our industry's finest. Once it's concluded, I hope to use my learnings to make an impact within our businesses.
Alongside my business partners, we've recently launched a hospitality branding, design, and operations consultancy which we plan to grow over the next few years, with the hope it reaches a stage where I can travel whilst still working remotely!
YOUR FAVORITE BAR SNACK?
Of all time? Nocerella Olives. Although the potato smileys at Seed Library take a close 2nd…
10 THINGS YOU CAN'T LIVE WITHOUT?
My mum and sister!

Lego

Chips, cheese, and gravy (the official unofficial national dish)

Coffee

My work fam <3

Spider-Man movies

Sriracha Sauce

My EXTRA loud alarm clock

The Football Manager games (my Achilles heel)

Stranger Things
WHO WOULD PLAY YOU IN A FILM?
I'd say Cole Sprouse would be a solid casting!