Meet Seraphine Afladey, rising bartender from Ghana
Seraphine takes over The Blend, unveiling her journey as a rising bartender on the Ghanaian scene and shining a light on her motherland, presenting her hidden gems in Accra, and much more... Meet Seraphine and follow her on her journey!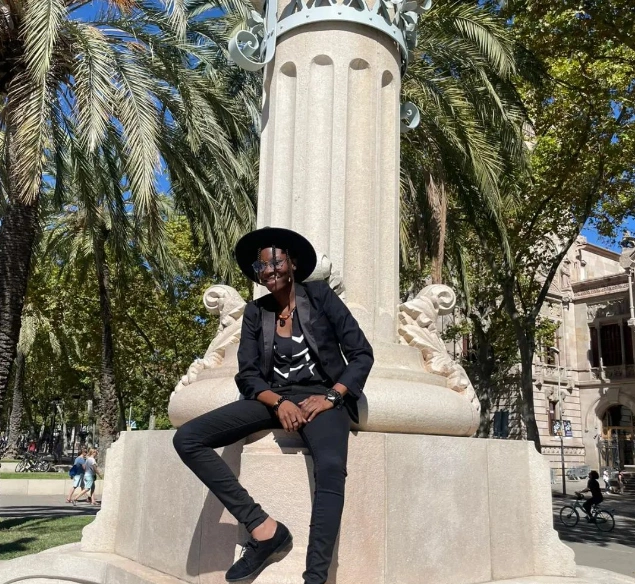 NAME: Seraphine Afladey
NICKNAME: Asher
POSITION: Barback at La Borracha Mexican Canteen
PREVIOUS EXPERIENCES
I started working at 14 years old for my family business as a local porridge seller before entering senior high school. A year later, in 2015, I was selling recharge cards as an independent. From there, I had jobs in different trades, some in companies and the rest as self-employed; basically, I just did anything to put food on my table.

I had the same routine for about 3 and half years after high school until November 2019 when I was introduced to the hospitality industry and trained as a waitress at Apio Station 1, in Labone Accra, learning basic knowledge about hospitality. Being a waitress was new for me, with a whole new set of challenges like holding and balancing drinks on a tray, and recommending food and beverages to customers to upsell. Constant practice made it easier over time. It lasted for 8 months but unfortunately, the restaurant closed down, and I applied at a coffee shop called Baa and Bean where I worked until December 2021, preparing and serving espresso, cappuccino, latte, and Americano. It was after this that I joined La Borracha and the rest is history...
WHAT'S THE THEME OF YOUR TAKEOVER?
DISCOVERY: Journey into the bar world
WHAT ARE YOU THE PROUDEST OF?
In the short period (just a year) since I joined the industry, I developed on a personal level - growing self-confidence and learning to be more communicative with mentors and customers. After only 3 months in La Borracha, I entered a cocktail competition, ending in second place amongst more experienced competitors.

This encouraged me to enter the 50 Best Bars The Blend Scholarship a couple of months later. Reaching the 25 shortlist, out of over 750 people worldwide, I was the only candidate selected from Africa. I was then asked to attend an interview as part of the 5 semi-finalists, and although it took place at the same time as my Grandmother's funeral, I was successful and became part of the final 3 participants who traveled to Barcelona in October 2022 and was runner-up. Travel and experience alone will always be a special occasions in my life.
WHAT'S NEXT?
I now have some career aims in life following the Barcelona experience.
My dream is to create a project with like-minded industry mixologists to buy farmland and hire young people to grow local agricultural produces specifically for the industry and reduce the current reliance in Ghana on importing so many of the products. In 2023, I wish to grow the connections made with the people who saw my abilities in Barcelona to continue to build my knowledge and experience in the industry and as a person. I am also looking at the opportunity to be a mixology specialist for brands, continuing to create cocktails and supporting the food and beverage industry in Ghana and beyond.
WHAT DO YOU DO OUTSIDE OF WORK?
I enjoy having a very relaxing quiet time on my days off, watching movies mostly cartoons and vampire movies though I mostly visit the seaside as it is one of my favorite places to be. I go there to relax after a long day at work for inspiration, especially when things get tough, and to enjoy the beautiful sights. I also love to visit art centers.
TELL US A FUN FACT ABOUT YOU...
As mentioned above I love and admire art, especially abstract art, and often find myself picking up objects, even bottle tops, straws, and whatever comes to hand, and molding them into different shapes. I also love building "art" so if I am on the beach I build an abstract object with any raw materials I find around me.
WHAT IS YOUR CLOSET SONG?
Ever since I watched the cartoon Zootopia I literally became obsessed with the song "Try Everything" by Shakira. This song is a constant reminder for me to never give up. Anytime I listen to the lyrics it gives me the encouragement and strength to believe in myself. Life throws up so many challenges and even though I might fall down the song encourages me to get up again and keep going.
WHAT IS YOUR FAVORITE BAR SNACK?
The Chicken Taco Crunch Wrap served in La Borracha
10 THINGS YOU CAN'T LIVE WITHOUT?
1. Cartoons
2. My loved ones
3. Candies
4. Access to the internet
5. International Travel (thanks to The Blend and Barcelona)
6. The sea and beach
7. Art
8. A career that can afford me a home of my own
9. Food
10. Comfort
WHO WOULD PLAY YOU IN A FILM?
I cannot think of any specific actress. I would probably be better caricatured as a hyperactive cartoon character.