Meet Ago Perrone, winner of The Roku Industry Icon award!
On October 4th, the great and the good of the global hospitality community gathered in Barcelona's Arenas Mall for The World's 50 Best Bars Awards. Included in the prestigious ranking are individual accolades for The Best New Opening, Highest New Entry, and the Roku Industry Icon award. Joining the ranks of previous winners Shingo Gokan and Ashtin Berry is this year's titleholder, our 2022 Roku Industry Icon, The Connaught's Director of Mixology - Agostino Perrone.
Originally from Lake Como, Ago has been in London for 18 years and at The Connaught since 2008, during which time he has led his team to stratospheric success and cemented himself as one of the most influential bartenders in the world. Listed in the World's 50 Best Bars for the past 11 years running and named World's Best Bar 2020 and 2021, The Connaught is known for its impeccable service, electric atmosphere and of course - its famous Martini trolley. But Ago's career in hospitality has more humble beginnings; as he explains, 'I started to work in hospitality because I wanted to pay for my studies. My studies still need to happen, but I am travelling the world and meeting amazing people and discovering new places and new cultures through my profession.'
An avid photographer, Ago juggles his passion for bartending with a love of art, travel and cooking, helping to keep his work/life balance in check 'I am a quiet person, I like my own space, with the people who are close to me, to enjoy the flow and not for necessary specific reason. I exercise, I like meditation, cooking and staying with people; that's what gives me a lot of joy, to really share.'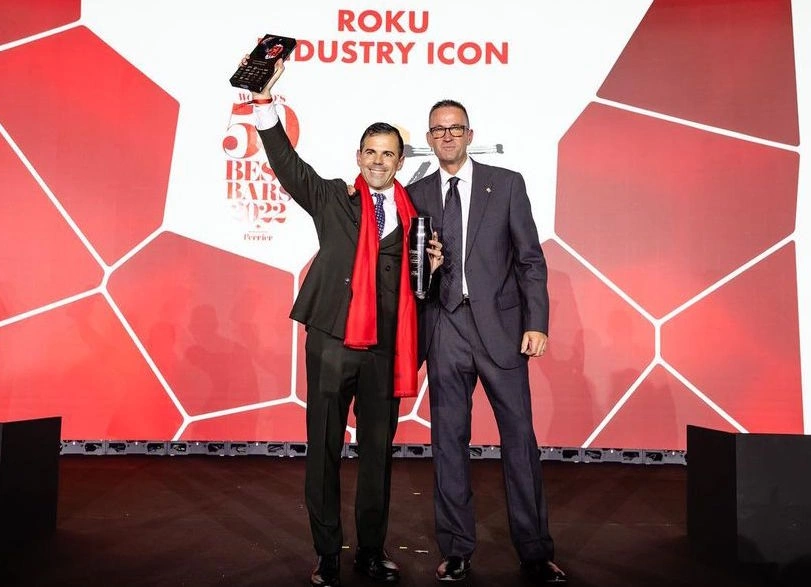 Ago's motto, 'Straight up with style, don't forget the smile,' has become a mantra, but to him, it's about more than just making drinks.
'It's not only the way we make the Martini; it's always straight up - chin up. It doesn't matter what's happening; you need to rely on yourself and the people around you.
We are part of our own little community in our team, but a bigger community within the hotel and a huge community within the hospitality.
And 'don't forget the smile' because, without the smile, you don't open the doors in life, and you don't make new connections with new guests in your bar; these are simple things that we tend to forget.'
In Ago's own words, 'This year's 50 Best Bars celebrations have been a carousel of emotions: the honour of receiving the ROKU Industry Icon award, coupled with the pride of being surrounded and supported by my own world's no.1 team at The Connaught, and the pleasure of seeing so many talented friends and peers recognised for their hard work and commitment to hospitality all over the world. I have no words to describe how lucky I feel to be part of this industry and hope to continue to serve and bring a contribution for the generations to come.'
Asked what makes a person truly iconic, Ago says 'You recognise an icon immediately; you associate an icon with strong values, an image, or a moment or place. The icon stands out as an inspiration and an example. In my hospitality journey, I have been lucky enough to cross the path of many legendary icons who have all taught me something and showed me the way, helping me forge my own vision.' And asked who he looks to as his icon, he cites Giuliano Morandin 'He's a person that you won't have seen in the spotlight, but he's still respected and admired by the entire industry. It's not so common to meet someone who has spent 40 years in the same venue. This is a testament to Giuliano's commitment, his fierce dedication to his role at The Dorchester and more widely, to hospitality. His genuine ethos and constant focus have been an example, a symbol of leadership and an inspiration to me since I arrived in London.'
Ago's passion, dedication, and eagerness to share are contagious. He continues to inspire his colleagues, peers and guests in both London and beyond, sharing his platform with others to help elevate not just himself, but the entire bar community. That, to us, makes an icon.
Images by Dave Holbrook