Amanda Humphrey makes her mark on Kentucky
Born in America but raised in the United Kingdom, Amanda Humphrey was destined to have a career that made the most of both worlds. In just a few years, the whisky sister - as she affectionately calls herself on social media - went from bartending with March Group in London, to working as Maker's Mark's UK Ambassador, before returning to her second home to take on a role at the home of Maker's Mark, the distillery in Kentucky. You could say she's a woman who knows what she wants and isn't afraid to go after it. Here, Amanda shares what it's like to be a Brit living in Kentucky, what a day at work in the distillery looks like and where she's set her sights on next.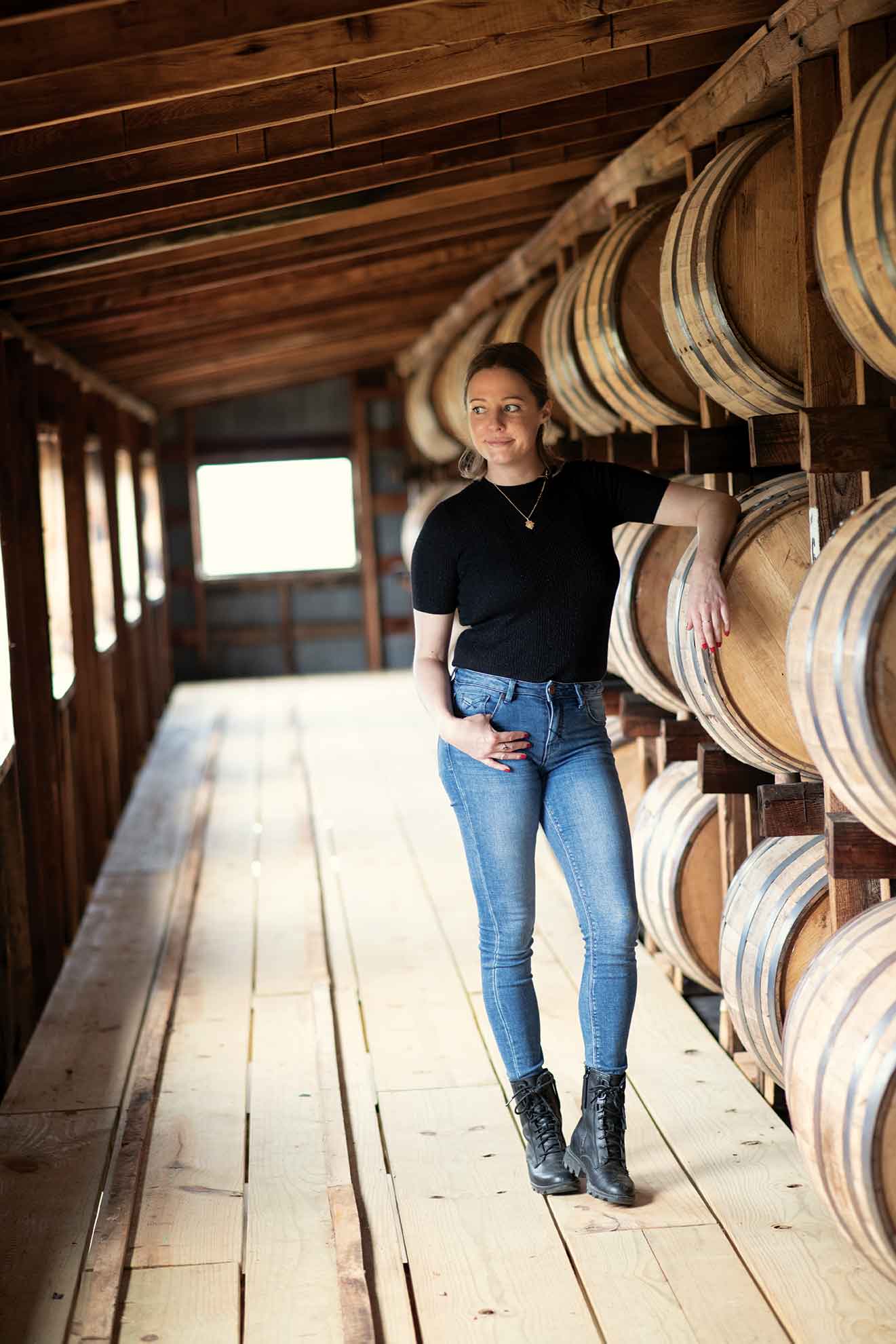 THANK YOU SO MUCH FOR TAKING THE TIME TO CHAT. FIRST OFF, CAN YOU TELL US A LITTLE ABOUT YOURSELF INCLUDING WHEN AND HOW YOU JOINED THE MAKER'S MARK FAMILY?
I joined the Maker's Mark family after a stint of managing a global portfolio of whiskies. I had an affiliate love for American whisky, specifically Maker's Mark, and wanted to represent the brand. After five years of managing global whiskies, I went for the Maker's Mark's UK Ambassador role. I have never worked for such a dynamic and fast-paced brand before. In the two years I was an Ambassador in the UK, I managed to host private selects for our single barrel program, 'The Maker's' experiential workshops and countless activations across the country.
HOW DID THE OPPORTUNITY TO HEAD TO KENTUCKY AND BE BASED AT THE MAKER'S MARK DISTILLERY COME ABOUT?
I created a five-year plan for myself when I joined Maker's Mark back in 2017. In my mind, my end goal was to move to Kentucky to head up the drinks program for the brand and I already had my US citizenship. I told my direct line manager and anyone who would listen to my plan. I built relationships, collaborated and created incredible activations with talented bars across London and threw myself into the role, knowing it would pay off eventually. When the role at the distillery was created, I went for it and here I am.
DESCRIBE YOUR ROLE AND WHAT IT INVOLVES:
My new role as Education and Drinks Program Manager for Maker's Mark involves so many different strands. At the distillery, I work closely with our Tour Team Manager Forrest Smallwood to create new and exciting experiences for both trade and consumers. I also head-up the drinks program at the distillery and manage the day-to-day running of the distillery restaurant and bars. The other part of my job involves working closely with the global brand team. This involves creating education and activation programs and social media content for the market. No two days are the same and as a creative person, I wouldn't have it any other way!
HOW HAVE THE DISTILLERY'S OPERATIONS CHANGED CURING COVID-19? HAVE YOU BEEN ABLE TO STAY OPEN TO VISITORS?
We decided to shut to visitors for a while to protect the safety of our production team and to make sure we could carry on making whisky for y'all. However, we recently opened tours and hospitality back up again with restrictions in place - masks are mandatory and tour groups are reduced in numbers. Tours are also currently staying away from production areas but still going on an awesome tour of our warehouse and tasting experience. The restaurant and bar at Star Hill Provisions are starting to pick up with people buying cocktails and nibbles before heading out.
TELL US ABOUT THE DISTILLERY'S SUSTAINABILITY PRACTICES:
Where to begin… Chief Operating Officer Rob Samuels and the team have some incredibly exciting environmental initiatives going on at the distillery. We are by no means perfect, but we are committed to change and ongoing improvement at the distillery. We are creating an oak repository within 1000 acres at Star Hill Farm to educate about forestry management to ensure the future safety of the great American white oak. Our Environmental Farm Manager Jason Nally has been working on biodiversity by getting rid of invasive species, bringing back native grasses and prairie lands. This encourages a healthy wildlife habitat and soils, in turn creating healthy water that is filtered into our spring-fed lakes that are key to the production of Maker's Mark. Much like our whisky, everything we are growing on our wheat and barley test plots and in the one-acre garden plot at the farm is in the pursuit of flavour. We are growing Dan Barber seeds next to heirloom varieties to see what grows best in our soil. We started back in January, so we are only just starting the journey, but so far we have successfully grown pumpkin, squash, corn, okra, watermelon and tomatoes. We pick produce from the garden daily and take it to the Star Hill Provisions Restaurant to create true seed-to-fork dishes and cocktails. The menu will forever change and evolve depending on the season and what is available to us at the time. A total of 80 per cent of our produce is from our farm or local producers - our eggs come from my colleague's farm and our honey from our neighbour Jonny Young. His bees pollinate wildflowers on the Maker's Mark property, which is super cool and I use his honey in a lot of cocktails at the distillery. We have also taken single-use plastics out of tastings, events and the restaurant, and are lowering waste through recycling and composting on-site. Maker's Mark also uses solar panels to offset the energy used to run its maturation houses. And then we move to the unsexy but equally as important stuff like our wastewater treatment facility. We have an Environmental Impact team that I am a part of. We get together every six weeks to assess and implement better ways of working. I'm excited about the future.
WHAT DOES A TYPICAL DAY AT THE DISTILLERY LOOK LIKE FOR YOU?
It changes day-to-day. I arrive at the distillery around 8.30 am; the drive into work is so beautiful and never gets old. I have been working with the brand team on the new global drinks strategy, from concept to photography and videography, so that's been keeping me busy. This morning, I was out foraging for acorns so I could make acorn vermouth before heading to the restaurant for service. I spend the late afternoon writing articles for publications and usually finish the day with online training or a tasting.
WHAT IS LIFE LIKE FOR A BRIT LIVING IN KENTUCKY? HAS IT BEEN EASY TO SETTLE INTO A NEW COUNTRY AND WHAT ASPECTS DO YOU FIND MOST DIFFERENT TO BEING AT HOME?
Apart from missing good quality tea, Sunday roasts, English breakfasts and driving on the right side of the road, I'm adjusting well. The main shock is going from a large international city such as London to America's most beautiful small town. Things move at a slower pace here but I'm not mad about that.
WHICH COUNTRY WILL YOU VISIT FIRST WHEN WE'RE FREE TO TRAVEL AGAIN?
Patagonia - I had to put my visit there on hold this year. Patagonia is the southernmost part of South America and spans Argentina and Chile. The area is known for its breathtaking scenery of dramatic mountain peaks, lakes, glaciers and unique wildlife. I'm going on a 14-day hiking excursion. I will be travelling on my own for this particular trip, which I find incredibly enriching and highly recommend to others to do so if they haven't already and can pluck up the courage. I will stop over in Buenos Aires for a few days to visit the team at Floreria Atlántico and to eat and drink my body weight in steak and red wine.