Bartender at Satan's Whiskers (UK)
Keila takes over The Blend, unveiling the backstage of Satan's Whiskers, discussing the power of social media in our industry, presenting her hidden London gems, and much more... Meet Keila and follow her on her journey!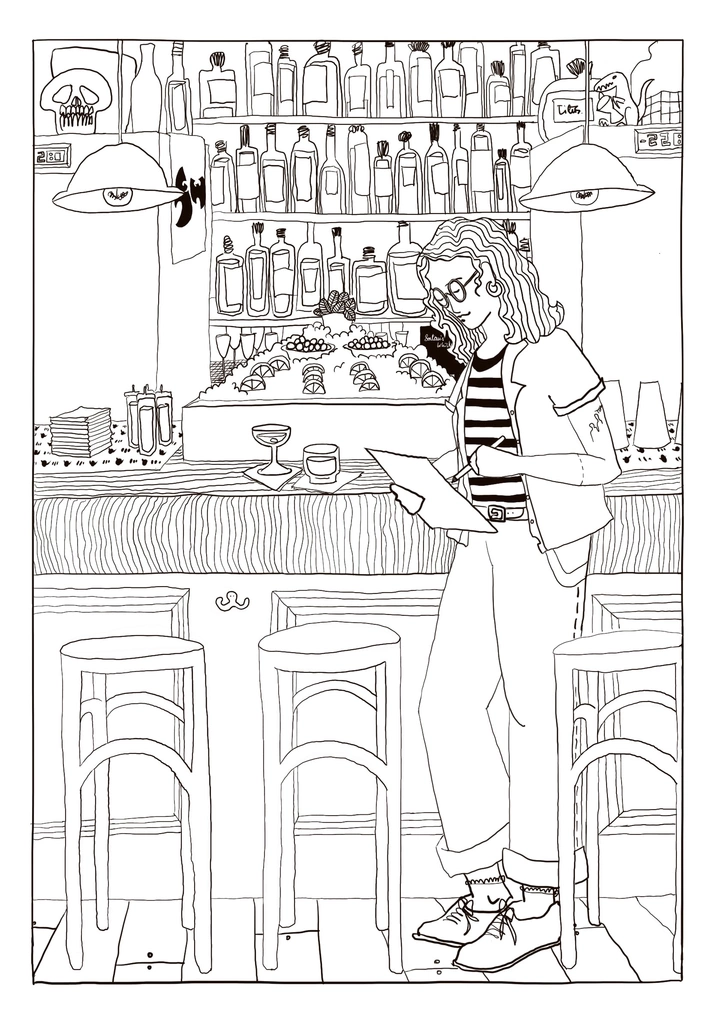 NAME
Keila Urzaiz de Calignon
SOCIAL HANDLES
@k.udc and @titus.udc for my artwork
NICKNAME
Titus. My dad calls me like that since I was a kid (I don't think he really knows why) and now any artistic work I do I sign it Titus.
ROLE IN THE HOSPITALITY
Although my official position is bartender at @satans_whiskers I am more of the Head Waitress currently.
PREVIOUS EXPERIENCES
Half French half Spanish born in Madrid, I came to London leaving aside my dance career, and got caught in the bar world by accident. After being at Hawksmoor for a few years I crossed the Channel to join the team at Little Red Door in Paris, but wanting to expand my experience in the hospitality sector, I came back to work in the five-star hotel bar Artesian at the Langham and perfected my waitressing skills at The Clove Club. I now run the floor at Satan's Whiskers and I take care of the social media.
WHAT IS THE THEME OF YOUR TAKEOVER
The ambiguous power of media in hospitality.
WHAT DO YOU DO OUTSIDE OF WORK?
I enjoy having a very relaxed agenda on my days off: I am currently addicted to The Trilogy of the Century by Ken Follet which is taking a lot of my free time, but otherwise, I watch loads of films, garden at home, maybe I'll check a new restaurant… I go through phases where I become a complete vegetal at home and then I feel guilty about it so I overbook my time off with friends and activities. Currently, I am in a very active mood so I have started a ceramic course and I am taking quite a lot of work side projects.
WHAT ARE YOU THE PROUDEST OF?
Trust: I think when you first start in the industry it feels like a very wide and overwhelming world of choices: where to work, who to follow, when to move to… I have always taken these choices very lightly thinking worst-case scenario I could always go back to where I was and moved as soon as something felt wrong or too comfortable. I moved with and for my honest gut, and today looking back, there isn't a single thing I regret doing: I enjoyed the good and learned from the poor choices I made.
WHAT'S NEXT?
When I first started in the industry I decided I wanted to become the best bartender: I worked hard and constantly sought feedback and criticism, what I had learned in the past I kept aside, adapting to the new venue, its new rules, and ways of doing things. I became a bartender, one that was lucky enough to work in all the venues I wanted to work at. But this has now become insufficient. I am exploring other fields, still within this industry that I love, but I am switching to something a bit more personal like it is to produce images: Paintings, photos, and visuals. I don't know where it is going to take me and I don't have a precise goal in mind: I move as I feel it and push towards what I find interesting different and exciting.
WHAT WOULD BE YOUR ADVICE TO A NEW BARTENDER?
When I started, I remember asking around people I admired to give me some tips to accelerate the learning process. The one I remember the most apart from the classic "work hard" is "don't mess with the industry, it's a very small world". At the time I thought it was silly, but it has taken me all these years to actually get and witness the full meaning of that sentence. Indeed, a tiny bar in a tiny village might be connected to this or this other big bar in that big city through someone and they will know if you have messed up in the past with your previous employers or colleagues. So my advice is, wherever you work and whoever you do so, don't burn any bridges because it will come back to you, like bad karma.
WHAT 'S YOUR CLOSET SONG?
I fixate with one corny song for a while, play it on repeat until I can't listen to it anymore and then I obsess with another one. Currently is Shallow, Lady Gaga. Yes I know.
YOUR FAVORITE BAR SNACK?
Classic potato chips. Plain. No dill, cheese, vinegar nor other atrocities I've seen around.
10 THINGS YOU CAN'T LIVE WITHOUT?
1. My loved ones, my cat included.
2. Pasta.
3. Moisturising cream.
4. Access to music
5. Being able to express myself: I could not live in a society where I am unable to speak my mind and heart.
6. Rain: I need to be surrounded by green, trees, plants, and grass; the absence of it makes me feel anxious.
7. Videos as a general category: from funny, to sad or serious, films, stories, documentaries, or a pretty image in movement; I could probably survive without this, but I enjoy watching them too much to conceive a good quality of life without it.
8. Sugar in my tea.
9. A trip to Provence, the south of France every August.
10. I'm going to save this last one as my wild card, in case I am forgetting something very obvious.
WHO WOULD PLAY YOU IN A FILM?
I'd like to think that Keira Knightley, but that is because she is my crush actress, not because she might look at all like me, unfortunately…