At the height of its success, Dandelyan, (overlooking The Thames in London), closed its doors. What was once one of the world's best bars, re-opened in March and has been revamped and re-branded to Lyaness; a bar headed up by Ryan Chetiyawardana, aka Mr. Lyan, and his award-winning team. We had the opportunity to catch-up with James Wheeler, General Manager at Lyaness, to find out the reason behind the change, their cocktail menu, and the concept of the new venue.

Lyaness, describe for all those who haven't had the privilege to visit yet the venue, concept and what you want your customers to experience.

Well, we were looking at what it was about Dandelyan that worked so well, and why it experienced the success that it did. The answer was the team. It was apparent what we did next was champion them. Within the team, we have such a vast range of experience and knowledge. Something that we learned during our Dandelyan journey was that they are so wildly capable of making delicious and damn interesting things that could rival those of some kitchens. So our new way of working would be using the team to make, and then deliver to our guests, the best ingredients we are capable of creating.

We started looking into ingredients and flavours that frustrated us as well as flavours that we wanted to celebrate. At the same time doing some really cool collaborations with industry pals that are leading the way with their innovative approaches. With all of that, we wound up with seven ingredients which would essentially be our menu. Five ingredients are made here by us, and there are two collaborations, from our external partners. To give you an idea of one of the ingredients we made here, we were frustrated with the lack of banana products that had any complexity, that didn't simply taste like candy, so we brainstormed what exactly it is that we'd want from a banana syrup, and made our own.

While that may all sound rather complicated, it isn't. Essentially what we've done is given our wonderful team the tools to talk you through these seven ingredients and include you in the process of finding the exact drink for you in that moment, using one of the ingredients.

What is the inspiration or reasoning behind this rebrand - especially as you just won World's Best Bar at WB50 2018 and TOTC Spirited Awards 2017 ?

The time was just so right. Dandelyan was so wonderful, and we will always love everything about it, but the conversation that we were having with it became much less relevant. The time was right to start a new conversation with Lyaness. The idea was already about a year old by the time we actually pulled the trigger on it, so we were absolutely ready to go with it. We wanted to go again, (as we use the term 'burn it down') and start fresh, and most importantly, continue to push ourselves, as well as our industry, to keep things relevant and exciting.

Your cocktail menu is recognised around the globe and is incredibly unique. How long does it take to conceptualise a drink, and where do you draw your inspiration?

We were lucky enough to have two of our Dandelyan menus recognised as the best in the world at the Spirited Awards (2016 and 2018), and yes, we did invest a huge amount of time into the process. Typically, a Dandelyan menu would take six months from the day we give the team the brief to the day we launch the finished menu.

With the first Lyaness menu things were a little different simply because we had the small matter of closing a bar that was doing 3,000 odd covers a week and there was a lot of different bits to juggle. We spent four months on this menu, and to be perfectly honest, it was a lot of work to do in that period of time, but the team knuckled down and were so excited by it that we managed to get it all finished to the exact standard we were hoping for, if not more so. We are currently full steam ahead on the second version of this menu, which we will launch mid-October. This time we have given ourselves a slightly more generous five months.

What's one of your favourite or weirdest creations on the new list, and take us on a journey through from idea to finished liquid?

Hmmm, my favourite and the weirdest are different but let's go with the weirdest. Looking at celebrating milk and milk products, and wanting to make our version that was clean and dynamic when it came to making drinks with it, so we made a Milk Wine. We make a sour milk culture using a combination of Turkish milk, whole milk and yoghurt. We cook the sour milk for five hours in a water bath and then cool before adding a non-alcoholic sauvignon blanc which will give the finished product a delicious fruity base as well as helping to split the liquid leaving us with a clear non-alcoholic aromatised Milk Wine.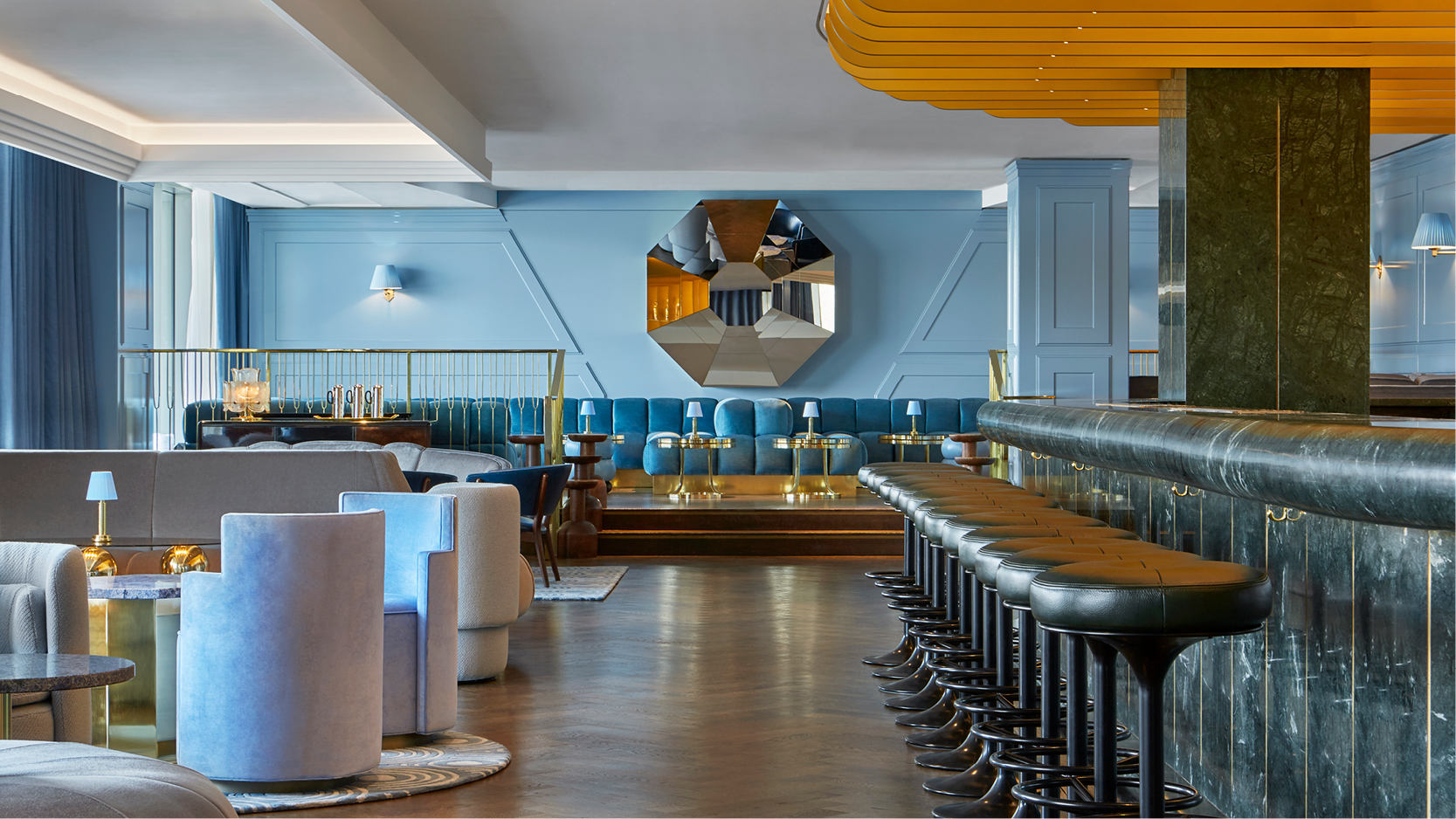 DO YOU IMPLEMENT SUSTAINABILITY OR MINIMAL WASTE PRACTICES WHEN CREATING YOUR COCKTAIL MENU WITHIN THE VENUE? IF SO, CAN YOU SHARE A FEW RECIPES?

As with any projects under the Mr Lyan umbrella, sustainability is always at the forefront of our minds. It's wonderful to see the team, especially any newbies that come through, starting to think about what's happening into the bar and what's going in the bin. Things like blitzing passion fruit husks, to making salt for a garnish, or using leftover pineapple chunks to garnish one of our afternoon tea drinks.

For me, one of the best sustainable practices on the current menu is our Infinite Banana ingredient. I briefly touched on this earlier, but this ingredient was made out of frustration that we had with the lack of quality banana products, so we had a look at what we would want from a banana product, and how we could create one infinite banana flavour. We wanted that ripe green note that you get from the skins, the wonderful caramel flavour that you get from Maillard banana and then the punchy fruitiness from the cured flesh, so we did just that, which means the entire banana is being utilised. Any leftover banana flesh (which is very little) is used to make a banana bread that is being used as a garnish.

WHAT EXCITES YOU ABOUT THE NEW VENUE?

Every-bloody-thing. The way that we have embraced this new level of inclusivity with the guest, the way the new space has an ability to create two totally different vibes during the day, and then in the evening. Watching the team take this - let's be honest - slightly weird (standard Ryan) concept and run with it and make it their own. To watch one of the team spend that time with a guest to find out exactly what they want to drink at that moment and then see the check come through for a "turbo pina colada with Purple Pineapple", that's exciting (and super tasty).

HOW LONG DID THE TRANSFER/REFURB TAKE?

Ten days :).

WHAT WAS THE MOST CHALLENGING PART OF THE REFURB?

The ten days part! We were really up against it. We quite literally closed the doors of the Dandelyan closing party (which was absolutely brilliant and out of control by the way), and the team shifted all of the furniture into storage so that work could start first thing the next morning. The schedule was so tight, and there was so much to do, everything was mapped out to the hour, twenty-four hours of the day for ten days.

WHAT WAS THE MOST EXCITING PART?

Walking into the bar the morning after the walls had been painted, and the light fittings had gone in and just falling totally in love with it.

YOU'VE COMPLETED SOME EPIC COLLABORATIONS RECENTLY, SHARE ONE WITH US?

Vijay and his amazing team from Native in Singapore just came over to do the first of our new 'House Party' series, and it was brilliant. He's such an incredible dude, and his team are insanely talented. They brought some cool local ingredients with them that they'd foraged themselves, needless to say, the outcome was some very tasty drinks. They were using things like torch ginger, blue pea flower, candlenut, laksa leaves, buah keluak and kampot pepper, to name a few. They played their local Singaporean hip hop playlist, we recreated a couple of their signature bar snacks, and they dived headfirst into service, and it went down a treat.

#INGREDIENTSLAYER, WHAT IS THIS?

"The exploring and exploding of ingredients to bring new angles of perception to the landscape of drinks" Quote Alex Lawrence.

RECENTLY YOU WERE NOMINATED AS TOP FOUR AT TOTC. HOW DID THAT FEEL, KNOWING YOU'VE JUST REBRANDED AND OPENED DOORS?

It's ridiculous! We didn't even think that after such a short period we would be recognised on that scale at all, let alone a top four. It's extremely heart-warming to know people are enjoying the new bar already and it's a lovely pat on the back for the team that has worked so hard to get it all up and running.

DO YOU MISS US HERE IN AUSTRALIA?

Your rubbish chat, hell no. Everything else, yes very much so. When are you inviting us back?

FUNNY YOU ASK...
THE BLENDS OF THE WORLD 2020 TOUR ANNOUNCED SOON...