Sustainable ingredients? At BCB 2021, we asked the community how this works
Attention! For all German-speaking readers.
At the bottom of this page you will find a PDF for download in which the whole article has been summarized in German.
This year's BCB is over – and without doing a proper deep dive, it was certainly great to meet so many colleagues in person again and to celebrate bar culture together. Besides facilitating networking and much-missed face-to-face encounters, THE BLEND also threw a spotlight onto a vital issue. Both trade fair booth and the dedicated "set it up" workshop at KINK bar explored "sustainable ingredients", offering some great, tangible examples of how to include these in any bar setting. Read on to discover our key findings & let´s discuss them!
Kick-off: sustainable success takes many small steps
Throughout the workshop, talks with participating bartenders sparked plenty of excellent ideas and techniques that some bars have already started to use in their own sustainability push. At the same time, many bartenders seem put off by the sheer complexity and abstract nature of this issue, making it hard to find the right motivation and approach to actually get started. Yet introducing sustainability doesn't mean you need to overhaul your entire approach all at once. Our BCB 2021 mentors focused on sustainable ingredients to serve as a small, inspiring kickstarter before exploring further areas of sustainability, step by step. And while not every ingredient is a secret sustainability star, most recipes contain at least one component that could benefit from a more thoughtful approach.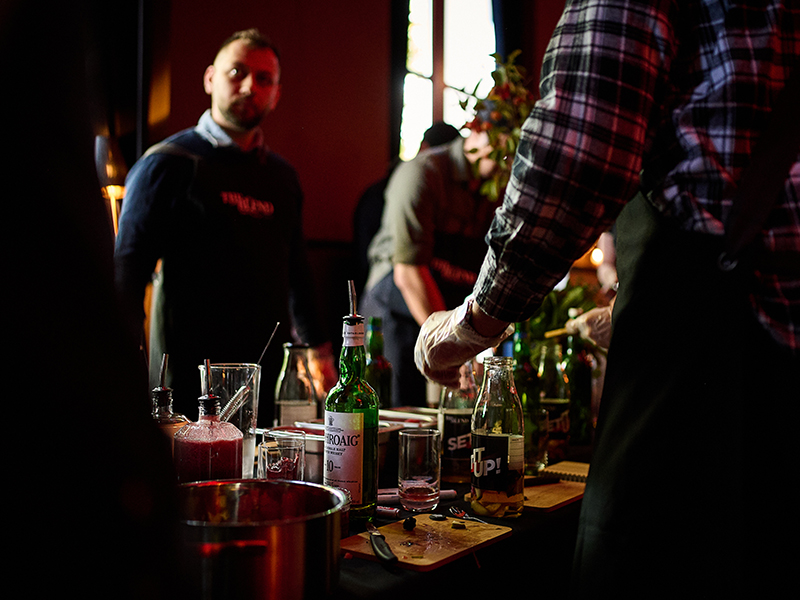 Together with you, we have pinpointed some creative techniques worth sharing.
Take seasonal menus – these are great for introducing guests to sustainable drinks that could replace exotic cocktails. Or take a closer look at recurring bar "waste" and turn tasty scraps into sustainable ingredients that can serve as the basis of a new drink. A lot of the time, new ideas pop up on the fly and the entire process can easily develop a life of its own. As a rule, it's also worth taking a look beyond individual drinks or ingredients and considering the entire menu instead.
Our future: a new way of thinking – and bold combinations
Tangible – and tasty – results included a twist on a sour that combines Laphroaig aromas with vinegar, domestic invasive species, and an unusual hint of sweetness. Boasting not one, but two sustainable ingredient tweaks, this drink swapped exotic fruit for domestic weeds and citrus acidity for local organic vinegar. And while vinegar might not always be our go-to choice for a splash of acidity, here it proved to be the perfect foil for the eccentric Scot.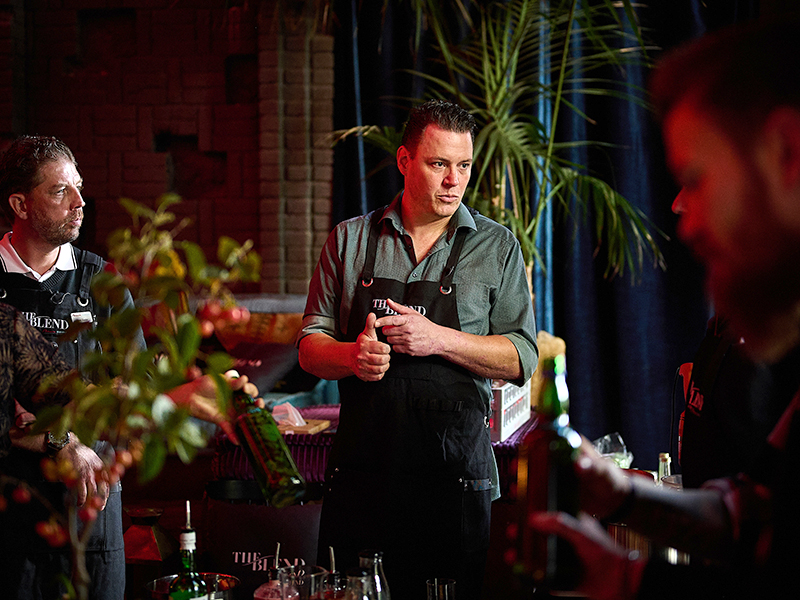 LESS / drink by Marco Beier
5 cl Laphroaig 10
5 cl Morello Cherry – weed – ginger shrub
Building on this, try to identify other spirits that pair well with your new ingredient to fully exploit its sustainable potential and expand your menu.
As hinted earlier, another great workshop inspiration involved repurposing organic restaurant waste. One of the easiest ways to do this is to turn the pulp of freshly squeezed fruit into a delicious syrup since such scraps contain a surprising amount of punchy flavours.
To showcase the incredible potential of rather unassuming kitchen waste, e. g. by distilling and preserving the aroma of tomato stalks in a rotary evaporator, one of our mentors crafted a drink with ROKU Gin. The intriguing technique and clever flavour combo resulted in a fresh, aromatic and – most of all – spirited drink.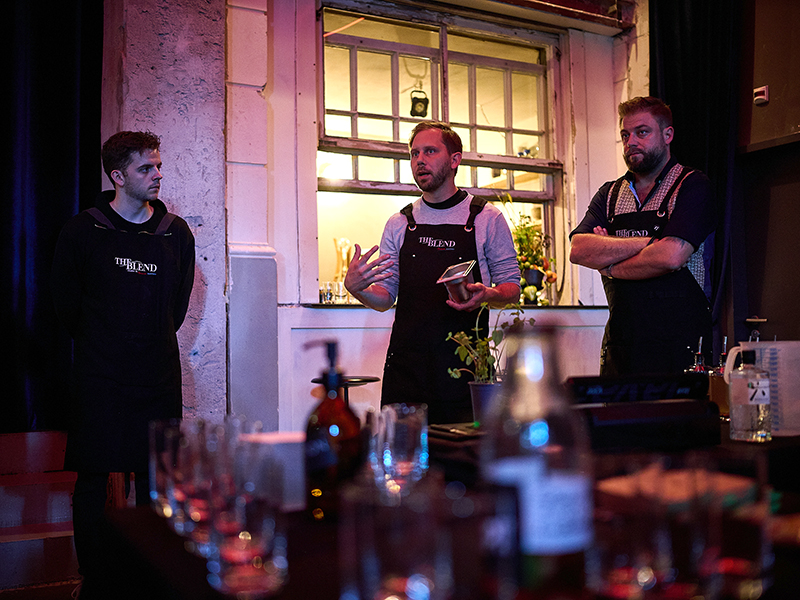 DIFFERENT / drink by Johannes Möhring
3.5 cl ROKU Gin redistilled with tomato stalks
2 cl citrus waste sherbet
1.5 cl soured herbal stem infusion (balm, mint, basil, parsley)
7 cl soda
Sure, not all bars have their own evaporator (yet), but anyone can try their hand at fermenting a lively fruit wine. Fermentation ensures that seasonal fruits can also be used in winter and the great thing about fermentation is that the ingredients do all the work and don't need any intricate input. Enjoy an effervescent, fruity drink that (here) sets a smooth stage for Maker's Mark.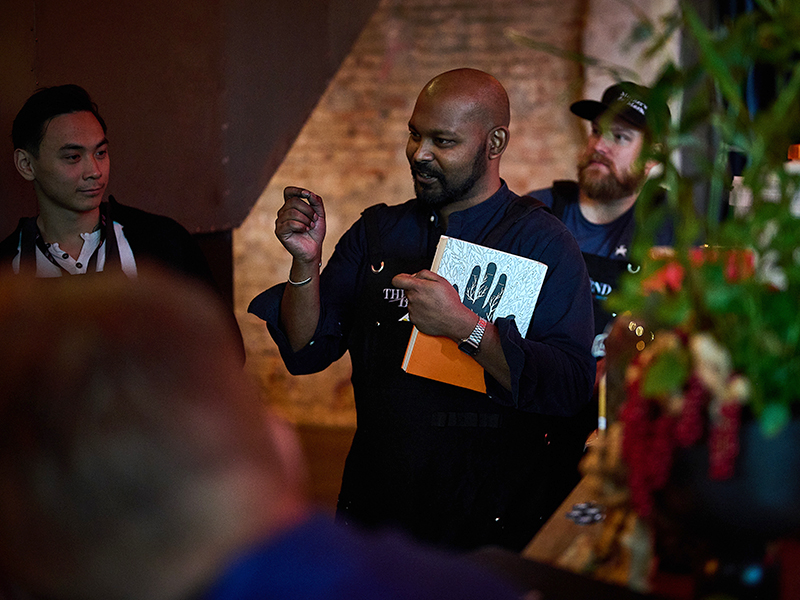 BETTER / drink by Arun Naagenthira Puvanendran
5.5 cl Maker's Mark
0.5 cl Laphroaig 10
3 cl lemon balm – cocoa – ginger cordial
6 cl homemade berry wine / cider
So, before you put sustainability on the back burner "because it's such a huge issue and I just don't know where to start", just focus on a detail or two. Try your hand at sustainable aperetifs, happy to do so at events & tastings! Any new, daring combo is bound to surprise and delight your guests. Enjoy each of your steps towards a more sustainable and responsible menu that contributes to a better future.
Just set it up – different, less, better!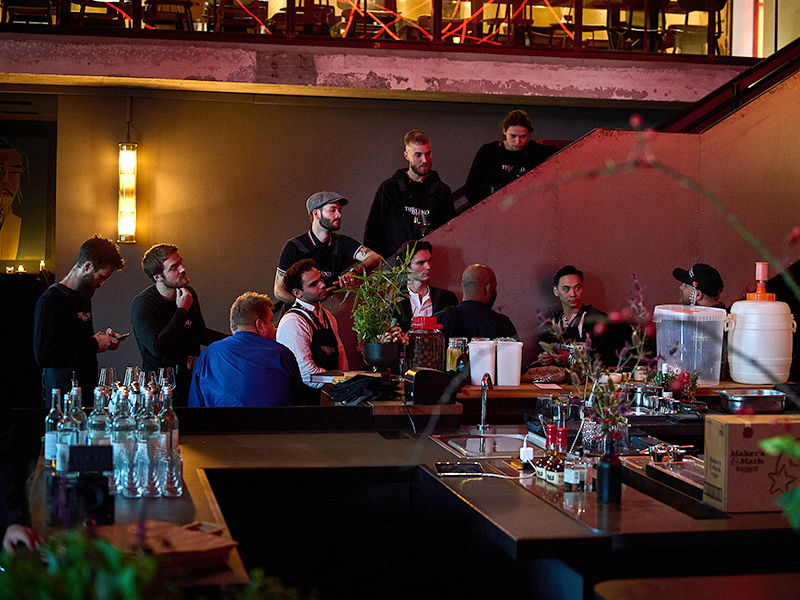 Since the workshop feedback was so positive – and with so many facets of sustainability still unexplored – this is certainly not the last you'll be hearing from us on this matter.