Meet Alice Newport - James B Beam Distilling Co - National Ambassador
Beam Suntory announces newly appointed Advocacy team.
Three exciting new roles within the Advocacy team, reporting to the Group Advocacy Manager, Hayley Morison welcomes:
James Buntin, House of Suntory National Ambassador,

Rhianna Lucas, Maker's Mark Diplomat and

Alice Newport - James B Beam Distilling Co - National Ambassador.
Beam Suntory's Ambassadors are the face of the brand, they're storytellers, guardians, and educators about all the things that make our brands so special. As either a House of Suntory National Ambassador, Maker's Mark Ambassadors or James B. Beam Distilling Co, the team will be responsible for bringing the magic of Beam Suntory brands and award-winning Distilleries to life within Australia and New Zealand.

''As we continue to build our growth strategy, not just locally but globally – it makes sense for this evolution of brand specific roles to support Advocacy, as well as on and off premise channels for their respective brand houses, and our innovation team. This year sees huge milestones within the portfolio for these brands, with 100 Years of House of Suntory, and a new brand focus for the James B. Beam Distilling Co Brand house as well as some exciting news for Maker's Mark and this year's campaign.''
''I am beyond excited with the new recruits, witnessing their talents prior to the role and their wealth of industry experience, I cannot wait to see where they take each of the roles and our brands.'' says Hayley Morison.
Most brand ambassadors follow a fairly linear career path. You work in bars for long enough until the allure of sun and 'regular' hours more in tune with your friendship group outside of hospitality starts to look ever rosier. From personal experience, the grass is always greener, which is why so many of those who leave the industry return for a busy Friday or Saturday service to scratch the itch, feel the rush, and remember how lucky we are to experience human interaction through our work.

Maybe there's a university degree pleading to be utilised in a more corporate environment, maybe there is past affiliation via competitions or media work, but it's generally a progression within the industry to a point where mastery meets motivation for a new challenge.

For Alice Newport, James B. Beam Distillers new National Brand Ambassador that couldn't be further from the narrative. It started off to script.

'My dad used to DJ at this nightclub in Bedford called Winkles that eventually became the Pad, which he ended up running. I stocked the fridges for the reopening and remember loving it. I threw my first event there (a day party – with no alcohol of course) when I was 13.'

A brief foray into nightclubs was the logical step when she turned 18, but it proved to be not in Bedford but Perth, as the family relocated to WA later that year. 7am finishes at Geisha, 'still one of my favourite places in the entire world' soon led to a desire for more traditional sleeping patterns, when a colleague threw something left of centre into the mix.

'One of the girls on the door at Geisha had moved into temp recruitment and needed someone to go and work on Christmas Island doing data entry. I was looking for a sea change and as soon the opportunity was on the table, I said sign me up.'
It was on Christmas Island that a love for community engagement was born, a skill that she believes has been imperative in her brand work. Despite her main role being admin, the allure of bars still remained, and regular shifts at one of the only bars on the island didn't gel with her employers. She left with one foot firmly entrenched in local community, and a swag full of stories regaling robber-crabs, cricket matches and night sharks.
A relocation from Perth to Brisbane, after over half a decade working in the industry, stints at Yelp and Crowbar solidifying her realisation that the hospitality industry is where her heart really sits and reenforcing her passion for community outreach. Sydney was inevitably next on the cards, with the opportunity to represent Pernod Ricard's stable of craft brands under the Les Nouveaux Distillers banner providing a platform to amalgamate her experience to date.

And then we arrive here. A landmark role representing the largest, most historical and arguably most innovative bourbon in the world.

So which brand is she most excited about working with from the distillery that produces so many quality whiskies?

'Jim Beam. There's a reason why it's the biggest bourbon brand in the world and there's a huge opportunity to do something different and engaging. The trade already loves Basil Hayden, Knob Creek and the rest of the Small Batch portfolio, there's such a good opportunity to talk about heritage throughout the portfolio without drifting into cliché and repetitiveness.'
There is little danger of that from the woman sitting across from me in a vintage silk shirt that would make Migos say 'Versace' one more time. But having a large and inviting personality is just one part of the role of a brand ambassador, and the pervading theme that keeps popping up as we talk is that of community. It's something that drew Alice to Beam Suntory when the role was advertised.

'It's the best advocacy program in the country because it engages community and brings people together to learn as a collective. It teaches in a holistic and encompassing way and that's something that has always appealed to me.'
Aside from Kentucky whiskey, Alice's other great love is wine, and she draws a lyrical analogy between the two.

'Nobody scoffs at wine, even though you can get it in a goon bag. Equally, bourbon can be a tinny out the back, but it's not what defines the category. I'm excited to spread that message to both a trade and consumer base, that it is 'choose your own adventure'.'

As for any innovation that's in the pipeline, whilst James B. Beam has made no secret of its desire to innovate through the building of experimental distilleries, it's the innovation of the serve that most excites Alice.

'It's more than just a bourbon and coke or an old fashioned. I think that's a really beautiful space for innovation.'
By the time this is published Alice will be fresh off the back of a Kentucky trip, armed with a host of new knowledge and energy. So which part of her role is she most excited about attacking?

'I'm so excited for The Blend to launch something big in September (we can't reveal it just yet!) and to work with everyone in the trade. Equally I'm just as thrilled to work on the consumer side. Without giving too much away, we've got some incredible things in the works that are really aligned with my personal pillars and areas I enjoy. I can't wait to get stuck in and get my hands dirty!'
Excitement levels are confirmed as high so be sure to keep your eyes and ears peeled for trade events coming through The Blend where you can witness Alice Newport sharing all things James B. Beam Distillers.
Three exciting new roles within the Advocacy team, reporting to the Group Advocacy Manager, Hayley Morison welcomes: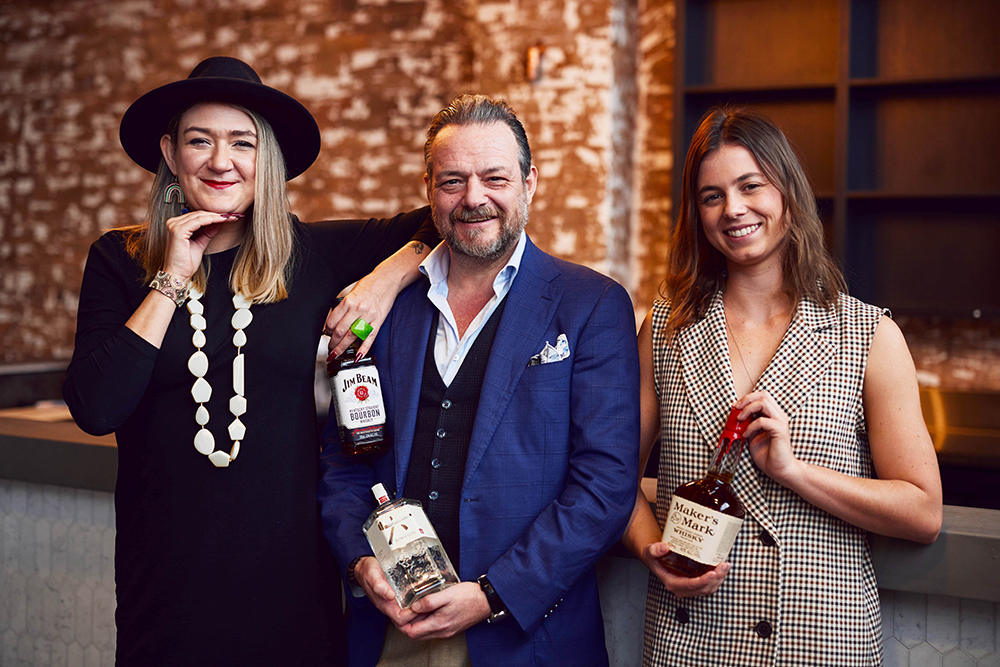 AMBASSADOR ROLES:
Each role will be responsible for a variety of brands within their portfolio.
James Buntin: House of Suntory – Suntory Japanese Luxury Whiskies Hakushu, Yamazaki, Hibiki, HAKU Vodka, ROKU Gin, TOKI Suntory Whisky, Chita.
Rhianna Lucas: Maker's Mark – Maker's Mark and Private Select series.
Alice Newport: James B Beam Distilling Co – Basil Hayden and Jim Beam Small Batch Bourbons, including Jim Beam family.
We welcome Alice, Rhianna, and James to the team, and please watch this space for their individual interviews to follow.
_____
BEAM SUNTORY:
With two centuries of family heritage, Beam Suntory is a world leader in premium spirits. As a truly global business, we bring together the best of our culturally diverse heritage. We value both agility and long-term thinking, we share a collective commitment to excellence and a dedication to craftsmanship, and across borders and roles, we collaborate to delight our consumers responsibly, and contribute to a more sustainable society for all our stakeholders.
Our Vision is Growing for Good, and our mission is to be the world's most admired, fastest-growing premium spirits company. We're a business that runs on responsibility, integrity, ambition, and drive, and we celebrate exceptional performance. We welcome our people to dream big and tenaciously pursue ambitious goals – we call it our 'Yatte Minahare' Spirit.
But perhaps most importantly – we value difference, and we appreciate what each of us can contribute. We inspire each other, and challenge ourselves to innovate, improve, advance new ideas and try new things. We create endless opportunities to Unleash Your Spirit every day in a culture that is charged, creative, challenging and fun.