A new initiative launched as part of The Blends of the World saw fifteen bartenders escape to the Yarra Valley to meet the producers.

The day consisted of foraging and then a intimate workshop and technique session with globally recognised bartender and owner of BYRDI, Luke Whearty.
BARTENDERS WHO ATTENDED
Ethan Roof and Mitch Townsend from Beneath Driver Lane, Tania Matthews from Eau De Vie, James Woof from The 18th Amendment Bar, Teandra Moroney from Gin Palace, Michael Calamante from 1806, Tony Huang from The Cloakroom Bar, Billy Murphy from Black Pearl and Sarah Watson from Joe Taylor.

On the BYRDI Team was Arash Ghassemi, Mark Leahy, Lewis Cooke, Aki Nishikura, Stefano Canova and Luke Whearty.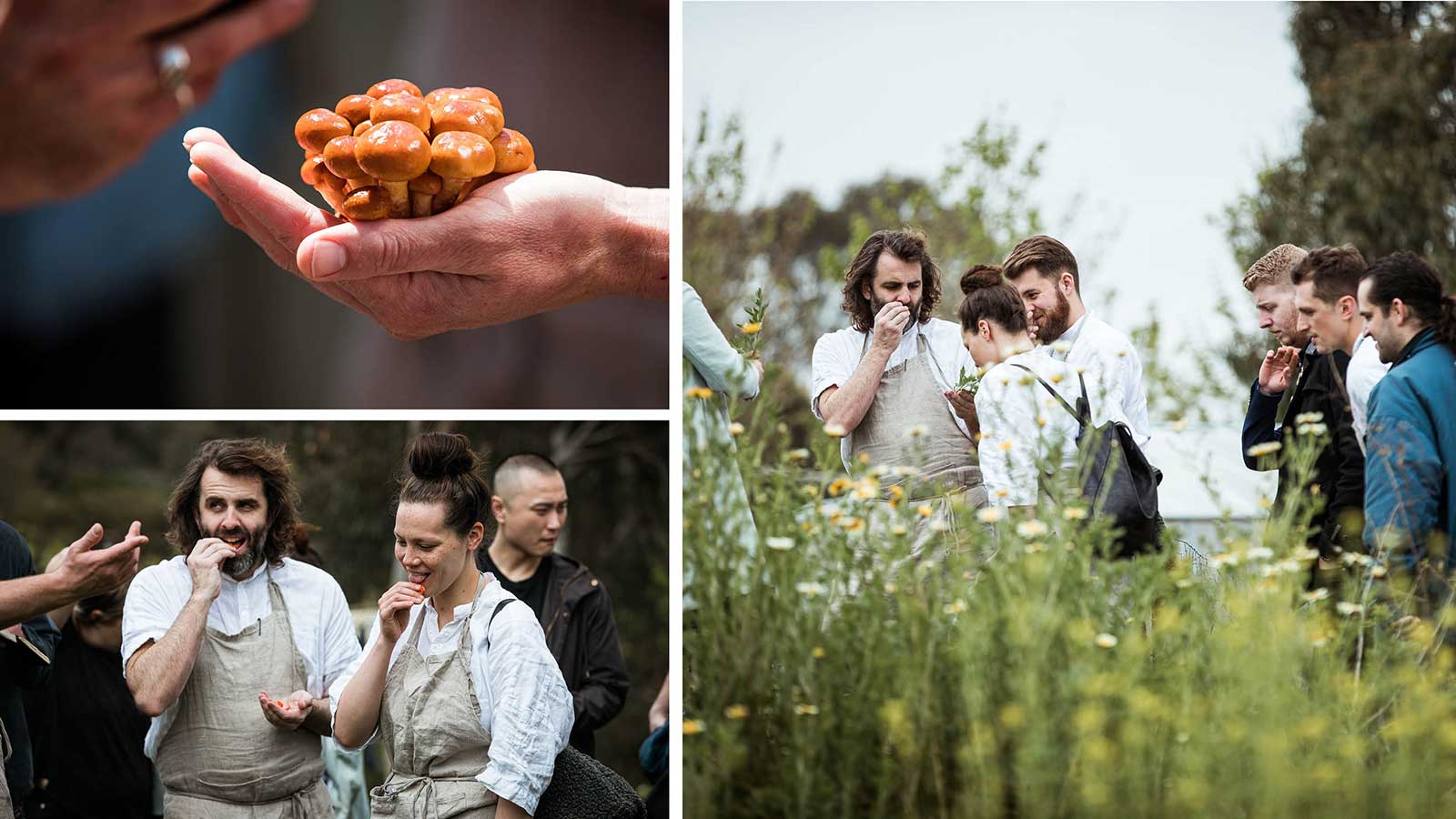 The day began with breakfast at the recently opened BYRDI, Melbourne's newest bar owned by Luke Whearty and Aki Nishikura, before bartenders headed out to the Yarra Valley. The day included an informative visit to Spurell Foraging where owner, Liam Spurrell spoke on the art of successful foraging, followed by a lesson on fungi with mushroom grower, John Ford. Returning to the Lab at BYRDI bartenders experienced an in-depth masterclass on techniques where he demonstrated processes to incorporate into innovative and experimental flavours and cocktail making.
AN INTERVIEW WITH LIAM SPURRELL
Spurrell Foraging

YOU USED TO COOK IN SOME OF THE BEST RESTAURANTS AND NOW YOU'RE SUPPLYING FRESH PRODUCE TO THEM. SHARE WITH US WHAT MADE YOU MAKE THE CHANGE.
Working in kitchens since the age of 14, I realised there was a gap in the market to supply seasonal, freshly foraged produce. I started at aged 20, thinking it would put petrol in my car. Over the past three years, it had rapidly grown, now I supply most of the top-end restaurants in Melbourne.

HOW MANY RESTAURANTS DO YOU SUPPLY TO, AND IS IT JUST IN MELBOURNE OR ALL OVER AUSTRALIA?
At present, I supply over 130 Melbourne venues, Yarra Valley and Mornington Peninsula wineries, Melbourne bars and I am starting to expand into the Sydney restaurant scene.

TAKE US ON THE JOURNEY OF YOUR DAY AND DESCRIBE WHAT'S INVOLVED WITH FORAGING, AND GROWING NATIVE FRESH PRODUCE.
I usually start at 5am when I organise the day's orders and deliveries. At 6.30am, my picking staff arrive and pick the produce to be delivered that day. I go out and forage in my local area (sides of road, creeks etc) for produce. I have people to help with the planting and growing of my different plants. My day also involves meeting and talking to chefs about our produce. Showing them and letting them taste samples. Days are jam-packed, but it is rewarding to see how the industry is accepting locally sourced and sustainable produce.

HOW MANY PLANT SPECIES DO YOU GROW ON YOUR PROPERTY?
We have a small property in Warrandyte where we grow approximately 50 different types of plants. I have just purchased 18 acres in Silvan where I am starting to plant all native and edible plants.

WHAT ARE SOME OF THE MOST REQUESTED INGREDIENTS FROM CHEFS THAT YOU GROW?
The most popular produce are the big flavoured items like begonia, mountain marigold, chive flowers, wild garlic, purslane, wood sorrel and fennel. Flowers are also popular in spring. They include alyssum, salvia, borage, sweet pea and abutilon (hibiscus).

DO YOU FIND THERE HAS BEEN A SHIFT FROM CHEFS TO BARS WITH REQUESTS? IF SO WHAT ARE BARS USUALLY ASKING FOR?
Over the past six months the interest from bars is quickly catching up to chefs. They are looking for produce that is unusual, has bold flavours and enhances the drinks they are making. We are supplying to gin distillers with many of our botanicals to make their product.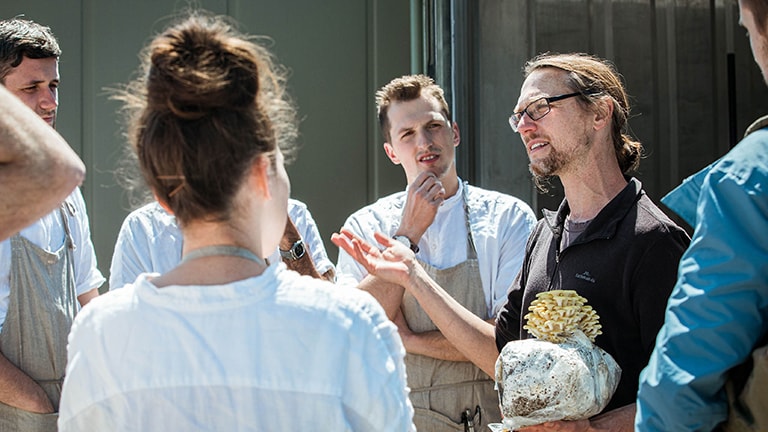 AN INTERVIEW WITH JOHN FORD
King Oyster Mushroom

SO…WHY MUSHROOMS, HOW DID THIS PASSION, OBSESSION AND DEDICATION COME ABOUT?
I've loved mushrooms ever since I was a kid. My best mate and I used to forage for mushrooms as teenagers, a bit nerdy sure sitting with ID books trying to work out all the different species, but we also did our fair share of trespassing and wandering around the bush. I got to know edible mushrooms after a year in Germany, where I spent time foraging with real experts and enthusiasts. Central Europe is the home of wild mushroom foraging and it's sad to reflect that the Australian cultural relationship with mushrooms is based more on the Anglo fear of the poisonous mushrooms, rather than an appreciation of nature's bounty.

I found out about six years ago that you could grow mushrooms at home and I just had to try it. I can tell you straight up that it is hard and not for the faint-hearted. After a few years of my increasing obsession my wife said either I had to give it up or turn it into a business. So here I am.

HOW MANY RESTAURANTS DO YOU SUPPLY TO, AND IS IT JUST IN MELBOURNE OR ALL OVER AUSTRALIA?
I supply to a few dozen restaurants around Melbourne and the Yarra Valley. These range from the top end hatted restaurants - Attica, Cutler and Co, Oakridge to name a few, to my local cafes in the Dandenong Ranges like Nevedya in Upwey, Earthly Pleasure in Belgrave and BamBam in Avonsleigh. I get lots of requests to send produce to Sydney and Brisbane, but I'm just not at that kind of scale.

TAKE US ON THE JOURNEY OF YOUR DAY, AND DESCRIBE WHAT'S INVOLVED WITH MUSHROOM GROWING.
Mushroom growing certainly doesn't happen in a day. It's a month- long process of rearing the fungus from a culture in the laboratory, to spawn growing on grain, to growing on straw and sawdust in the fruiting bags, then finally the mushrooms. Mushrooms are the fruit of the fungus, and you have to grow the body before the fruit.

Harvesting happens every day, often twice a day, so it's a relentless job being a mushroom farmer. In between harvesting, there's making the fruiting bags, time in the lab, cleaning, deliveries, fixing, organising orders, finding new clients, and all the administration of any small business. I have never worked so hard in my life.

HOW MANY TYPES OF MUSHROOM SPECIES DO YOU GROW?
I grow a dozen different varieties commercially, more than anyone else in the country to my knowledge. This includes six types of oyster mushrooms - Kings, yellows, pinks, blues, whites and Shimeji - along with Nameko, Chestnut, Lionsmane, Snowflake, Pioppino and Shiitake.

YOU ARE THE ONLY GROWER IN AUSTRALIA TO PRODUCE THE 'SNOWFLAKE' MUSHROOM, WHAT IS IT, AND WHY IS IT SO UNIQUE?
The Snowflake mushroom, or Hericium coralloides, is a native cousin of the Lionsmane mushroom also known as a Coraltooth. This specimen was cloned from a mushroom found in the Otways, although I have a clone from the Yarra Valley that I'm keen to grow. I'm the only one growing it commercially here in Australia (a similar variety is grown commercially in New Zealand) and it's only been on the market for a few months. It is popular due to its unique form and delicate flavour.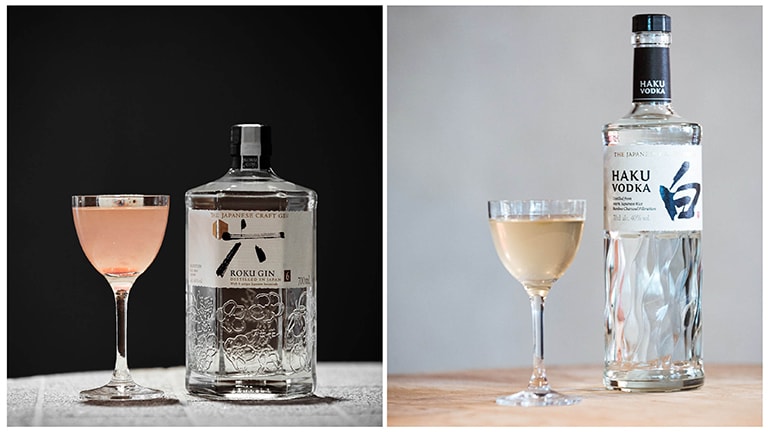 Life as a Waxflower: ROKU Gin, Geraldton Wax, White Chocolate, Salted Berry.

Paperbark: HAKU® Vodka, Smoked Paperbark, Mount Zero Olive Oil, Fermented Passionfruit.
Mushroom Apple: Maker's Mark, King Oyster Mushrooms, Smoked, Fermented & Fortified Yarra Valley Apples.

Weis Bar: Jim Beam Black Label, Lacto Fermented NT Mango, & Clarified Butterfly Factory Flekvieh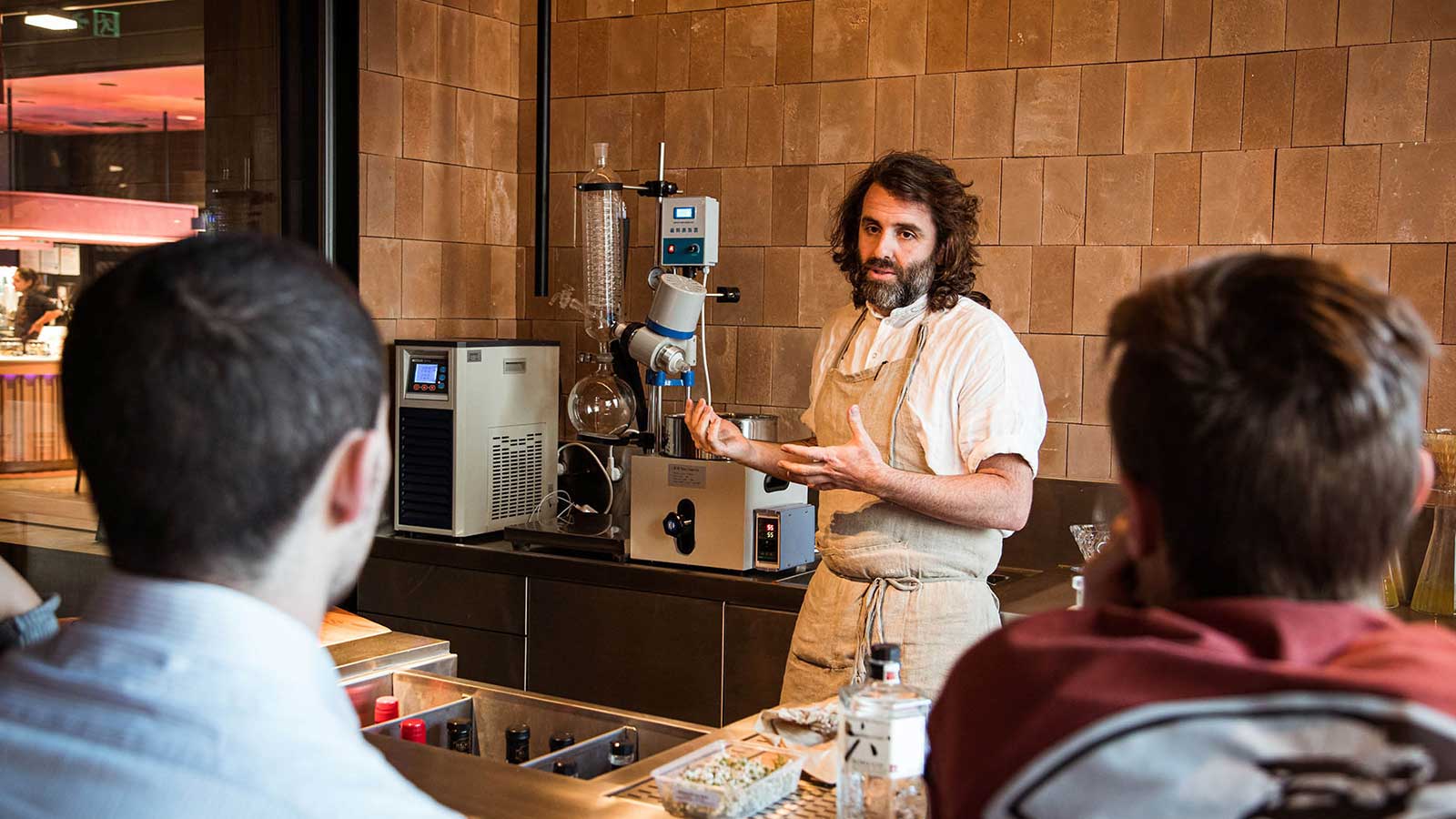 BARTENDERS SHARE THEIR EXPERIENCE

BILLY MURPHY
The highlight of the foraging day out, was without a doubt tasting, smelling and experiencing the passion that goes into the produce out at Spurrell Foraging. It was eye-opening to try all new flavours, along with some I'd only ever tried dried or preserved, fresh is best! Intrigued and inspired by native and local flavours from the onset of my career, it was an outstanding sensory experience to walk and talk first hand with these legends.

I was also inspired by the uses and possibilities of the rotary evaporator, receiving a crash course from Luke helped to tighten my understanding of the process. A first-hand demonstration and a sampling of distillations helped alleviate some misconceptions I had.

Hanging out with the talented Mark Leahy and charming Lewis Cooke was a treat, along with meeting the rest of the fantastic crew at BYRDI. These guys are just the kind of innovators and trail-blazers that Melbourne needs, all while remaining homely and familiar.

MICHAEL CALAMANTE
Talking to and meeting the suppliers was a highlight for me. Seeing it at the source is something that you don't often do. The stand out part was the passion they have for their produce.

It was very inspiring to see the passion the team at BYRDI has and the creation and dedication to their art and concept. I would attend more of these workshops and would encourage anyone who is in the industry to get involved.

MITCHELL TOWNSEND
I found the workshop session at BYRDI the most interesting.

I learnt a lot of new techniques and quirky ways to use a roto-vap. Luke and the farmers' passion for their craft was massively inspiring.

TONY HUANG
What an amazing day and rare experience. It was the first time I have visited the Yarra Valley, so it was very fortunate for me to be invited. I also have never visited any farm/producer, so being able to visit their work environment and learn from their passion was incredible. I loved meeting other bartenders and The Blend's family building approach. What I enjoyed most was how Luke explained how he composes everything from ingredients through to technique. It was a pleasure to have a glimpse of the mind of the master.

I learnt many things during the day, but the highlight will be about the raw honey, mushroom growing in general and most importantly, the technical aspect of the rotary evaporator. I will be ore considerate when purchasing ingredients (local produce focus) and utilise the tips and tricks that Luke talked about when working with various ingredients. I was very inspired by Luke's knowledge, experience, and most of all, passion.

SARAH WATSON
Being able to taste the native Australian flora raw - not already dried out or infused into something was incredible, same with trying the different types of mushrooms. I'd never really thought about how beautiful mushrooms could be before.

Listening to Luke talk about the lab equipment, different uses for it, but also when not to use it, was something I'll take back into the venue and be more mindful of when creating drinks in the future.

I was inspired by the passion and dedication, from not only the BYRDI team, but the owners of Spurrell Foraging & King Oyster Mushrooms. Their commitment to delivering the best possible product, the attention to detail, technique, and the refusal to compromise is something we should all be inspired by.

Stripping things back to doing something like meeting the producers of a single ingredient force you to look at drink creation in a different way and find new sources of inspiration. Escaping the city for a few hours never hurts either!

TEANDRA MORONEY
The sheer passion shown by John, the mushroom farmer, was a highlight. His clear enthusiasm and drive for quality Victorian produce was inspiring, and I enjoyed trying some of the different mushroom species he had available. I am very excited to start trying some of the mushrooms in drinks and experimenting with some of the concepts Luke at BYRDI suggested.

I learnt a lot about the difference in fresh, dried and delivered weekly ingredients. As John showed, mushrooms grow within eight hours, and as Liam explained, gum leaves and pepperberry leaves lose their oily characteristics once taken away from their source, so they are most flavoursome fresh. I will take this back to my bar as a point of reference on how to extract flavour in all its different formats and for my home experimentations for my latest dinner ideas!

John's passion for his mushrooms most definitely inspired me. His passion for the cultivation of the finest mushroom species and highest quality was inspiring. I really enjoyed learning from and hearing from him about his produce.

Luke and the team at BYRDI's approach to seasonality and attitude towards growing locally was amazing. I can't wait to see what they have in store and to see more locally grown produce!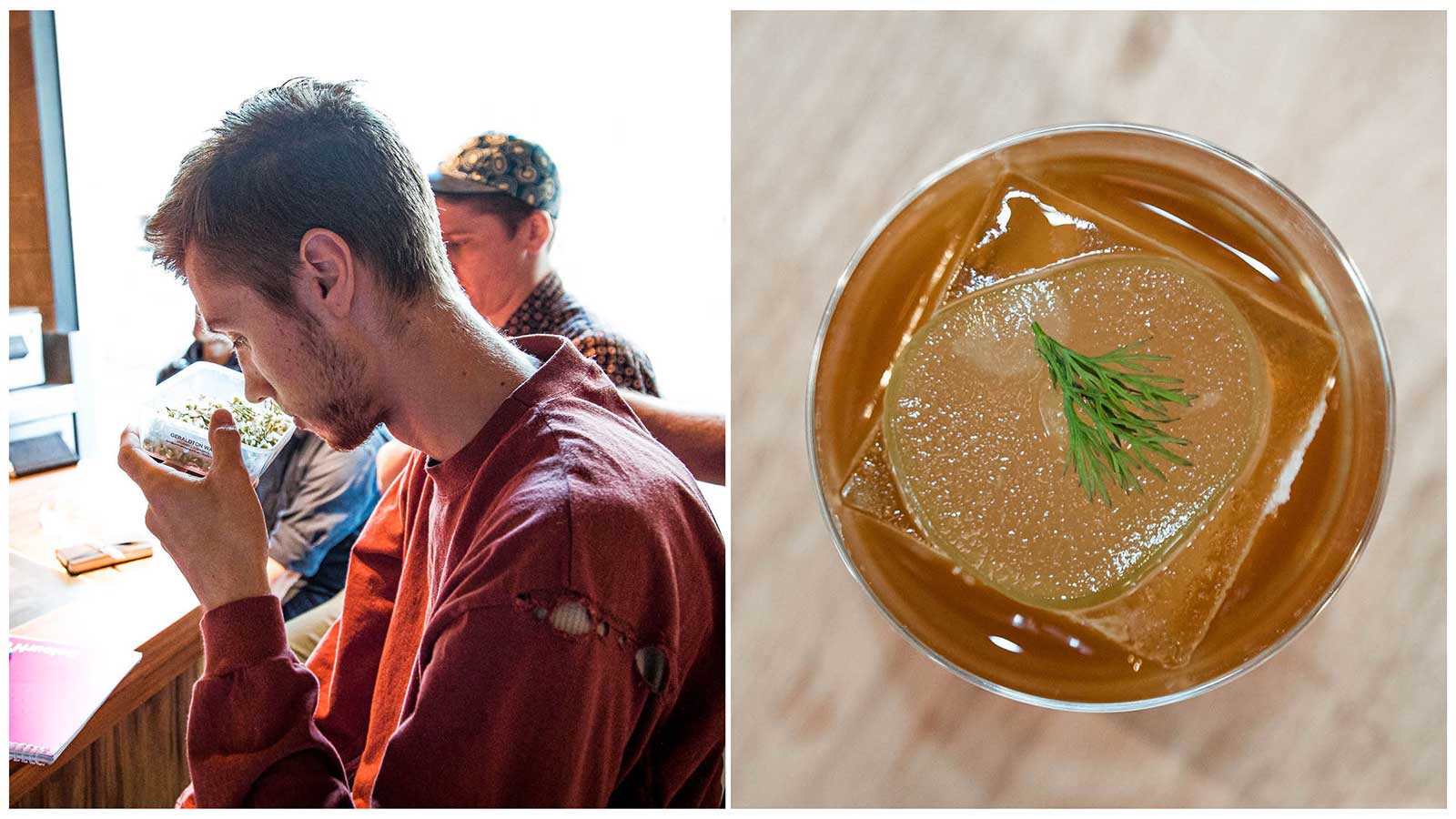 TECHNIQUES EXPLAINED

VACUUM DISTILLATION (ROTARY EVAPORATION)
A rotary evaporator is a device commonly found in chemical laboratories, however, it now has found its place in behind the bar.

The purpose of the rotary evaporator (roto-vap) extracts delicate aroma compounds without the higher heat of traditional distillation. There are two main purposes. The first being, to concentrate non-volatile components in a mixture. A good example is concentrating the freshest flavours from your core ingredient eg, an orange, by removing the water within the fruit.

And second, to draw the volatile aroma and flavour molecules from the liquid gently and at a low temperature. For example, extracting the wanted flavours from a blend of alcohol, herbs, and fruit without heating the mixture up.

The key to remember with any distillation is to understand that it is a separation. Sugars, acids, colours and most bitter compounds are separated from aromas, alcohol, water and small flavour molecules.

Even though we know rotary evaporators are extremely expensive, it adds to a bar's artillery, and the possibilities are endless for the creation of unique drinks with interesting and concentrated flavours.

FAT-WASHING
Fat-washing is a cocktail technique that adds savoury flavour to spirits. To fat-wash alcohol, add a fat like peanut oil or melted butter to a spirit at room temperature. Let it sit for a few hours, then chill everything in the fridge or freezer until the fat solidifies and can easily be skimmed off. The spirit retains the flavours of the fat even after the skimming. The technique gained popularity around 2007 and bartenders have experimented with fat-washing spirits with everything from peanut butter to grilled cheese sandwiches.

FERMENTATION
There is a trend behind bars that is the use of fermentation to bring new and 'funky' flavours and ingredients to drinks. Bartenders are making their own kombucha, kefir and koji, vinegars and wines in a bid to experiment with the fermentation process and its different results.

The chemical breakdown of a substance by bacteria, yeast or other micro-organisms, can be used to bring exciting flavours into drinks and behind the bar.