"It's a different world now." How Natalie Ng keeps the Door Knock team together
"They're more like a family, and not just a number or a cog in the machine," says Natalie Ng.
She's talking about how she feels about her team at Sydney bar Door Knock, in the midst of another lockdown with no end in sight.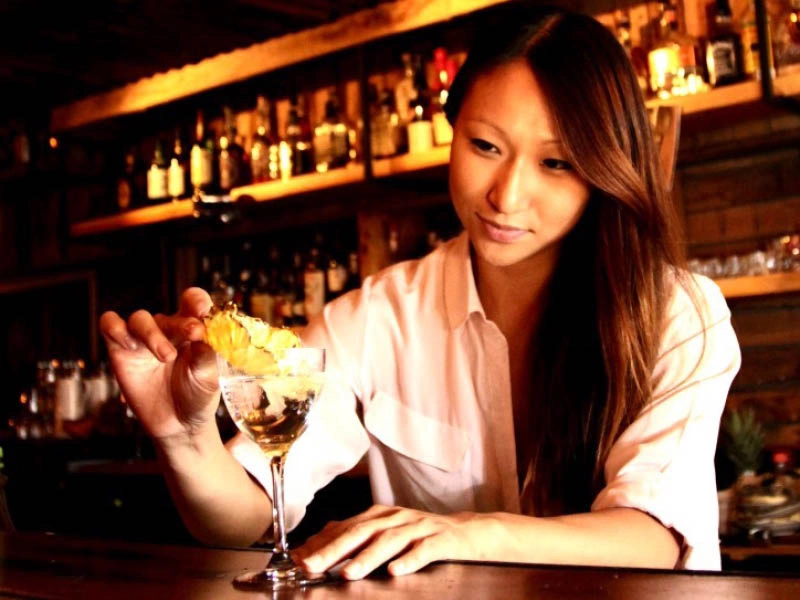 Ng, who is the 2021 winner of the Most Outstanding Contribution award at the Bartender Magazine Australian Bar Awards and a veteran bartender, knows that with everything going on in the world, it's never been more important to keep your staff together.

"It's crazy, it's such a different world now," Ng says. When we were in hospo back in the day, there was no such thing as owners who would check in on you. But also, there weren't that many bars that were considered small bars — they were big corporations that we worked for and cut our teeth in.
This new generation's really lucky that they have a plethora of really amazing operators that are willing to take someone really young and mould them. When you dedicate your time to someone obviously at times like this, you want to check in on them," she says.

1. Retention is key.

We all know this pandemic is — sometime in the hopefully not so distant future — going to end. Lockdowns, too, must end, and the best hospitality operators and managers will do everything to keep their staff through these tough times, so they can win in the good times ahead.

Let's not forget — onboarding new staff is a pain in the arse," Ng says. It costs a lot of time and money as well."

But Ng also points out that keeping your staff together and retaining them over years and not months creates stronger connections with your guests.

There's something about continuity," she says. Every person at Door Knock, we hire more for personality than for resume. And everyone has their rapport with the regulars and the clientele."
Keeping your best people around is important for the wellbeing of the business. It makes the customer feel secure that it's the same people here — this is why [they] come back. There's a relationship there where they trust you because everything is the same," says Ng. That's something that I don't think many people think about: your rapport with your clientele comes from every individual staff member and what they bring to the table."

2. And the team is everything.

When it comes to assessing the assets of a hospitality business, the staff — the team that is at the coalface every day — is critical.

But it's one thing to acknowledge that and another to live up to it. Ng says she puts respect at the center of her relationship with staff.

The team is the heart of everything, right?" says Ng. I've been lucky to not suffer as much as I know other people have with staff turnover here. I've had Liam Gavin and Anna Nguyen from day one, which has been amazing, and I think the key to that is obviously to treat your staff with the respect that they deserve.

They work hard for you, and they're the people who are in the trenches selling what you have built," she says.

3. Working on projects together keeps the camaraderie coming.

When we speak to Ng, Sydney is smack bang in the middle of another lockdown. To ensure no staff member feels cast adrift, Ng has been checking in on them every week.

I ask how their supplies are going, if they need vouchers or anything like that and am more than happy to give them that," Ng says. As great as the government support is in this country compared to a lot of countries around the world, we're very lucky here, Sydney is a tough city to live in. Even if we can do a little $50 gift every week to make sure they're not going hungry and it helps them keep the lights on, it gives me peace of mind that they're all safe and sound."

Ng is also trying to stimulate and engage their minds while they're stood down.

We're also using the time to upskill and train," says Ng. That means expanding their knowledge on subjects like wine through the Wine & Spirit Education Trust. My staff are doing the WSET at the moment," she says, we've paid for them to do it, making sure they've got their reading materials and everything — you know so your brain doesn't turn to mush."

As well as having knowledgeable, skilled up staff, Ng is getting them to work on updating and improving their cocktail list so they're ready when they get out of lockdown.

We have the time to really think about curating something that is completely different to what we've done before, which would be really cool," Ng says.

4. The right communication keeps your staff on side.

When you ask Ng what she thinks are her biggest strengths as a leader, she's unequivocal in her response.

I think I have great communication skills," she says. This doesn't mean she's a great orator, or spends her time barking orders at her people.
I think that's something really important: that you have that two way communication skill, as opposed to one way," Ng says.

That's one of the biggest things that a leader should have. The ability to always take the time and sit down and listen to what people have to say, as opposed to it just being your voice," she says.

Everyone deserves a voice at the end of the day because they work so hard."