The Perfect Blend 2019 Regional Final (VIC & TAS)
In amongst the current global climate situation that presents itself, we were fortunate enough to execute the VIC/TAS final with 16 incredibly talented and deserving finalists. The two days showed a strong sense of community, and how in times like this we become sturdier than ever!
We have announced earlier in the week we are postponing activity until further notice. However, this article is with purpose to highlight who won, our brilliant finalists and what happened over the course of the two days.

What went down…
On Tuesday morning, the third Regional Final for The Perfect Blend Cocktail competition 2020, was held in Melbourne.
Bartenders flocked to BYRDI (you like what I did there?)
to meet their host for the Day, Luke Whearty, before embarking on a day of outdoor adventures. The destination was Spurrell Farm in Yarra Valley for a foraging expedition, where Liam Spurrell hosted an intimate and informative hands-on session, learning about the origin of their produce and new flavours from a variety of flora, then exploring the production of Bee keeping and honey production.
After an informative time with Liam, the bartenders returned to Melbourne CBD for a session in the 'Aviary', aka a workshop hosted by Luke himself, on techniques including how to extract flavours, cocktail concept and creation also breaking down and simplifying the Rotary Vap machine….
Following this was a night of celebration and a Jim Beam dinner, welcoming the finalists to the competition at Blue Bonnet.
This Regional Final saw another group of finalists competing for the very first time – although you wouldn't have known by the strength and confidence of each performance. The Perfect Blend also welcomed back a few finalists all vying for another attempt at the title!
The competition day saw finalists take to the stage, in which each had their 7 minutes of fame to present their ' A toast to… ' cocktail in front of their fellow competitors and a judging panel consisting of Tom Scott, Cara Devine, Owen Westman and Tim Laferla (last year's Professional Category winner).
Before competition day, finalists were required to promote their signature creations within their respective venues for a total of two (2) weeks, to celebrate World Bartender Day. Points toward their final scores were awarded on their approach to this component of this competition. See the 100 finalists and their cocktails at www.worldbartenderday.com.
After the presentations had concluded – Zhou Zhou in South Yarra hosted the finalists to an intimate HAKU Vodka dinner and it was here they were able to relax and enjoy time together before the announcement. The judges deliberated, and scores were in, the VIC/TAS Regional finals winners were announced.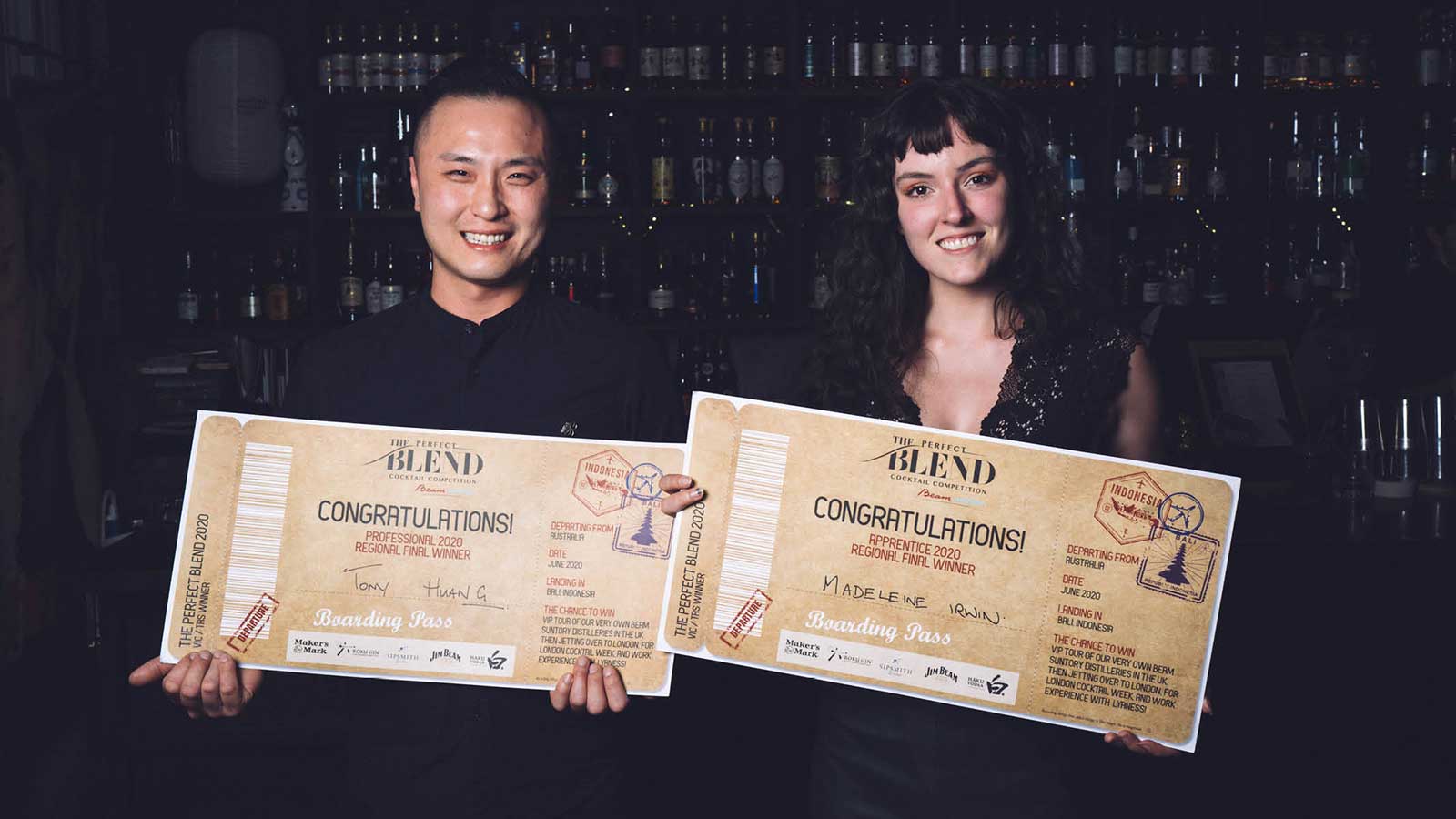 Apprentice Category winner was awarded to our first every Hobart Winner – Madeline Irwin. Back for a second time into the competition, was, Tony Huang taking out Professional category from The Cloakroom.
Madeleine and Tony now proceed to the Grand Final held later this year, with the 10 other state finalist winners yet to be announced.

APPRENTICE CATEGORY
Hieu Thai
Surekha Krishnan
Francesca CamillI
Jordan Taskovski
Madeleine Irwin
Isabella Byrne

PROFESSIONAL CATEGORY
Luke Kelly
Tony Huang
ShenaiJones
JamesCampbell-Graham
Alexander Chaplin
Dylan Spowart
Campbell Nicol
Ash Turner

Please note, even though it's postponed we are not going far!

Once we know it's safe, we will come back larger than ever, to support and celebrate you all!

In the meantime, we are busy planning online education as well as giving back to our incredible community. Our family.

Any questions please contact us. Hayley.morison@beamsuntory.com.