Trash Tiki: Power of Locality Tour
KELSEY RAMAGE

Kelsey Ramage is originally from Vancouver, Canada where she was General Manager at the Oakwood.

In 2015, she moved to the UK and eventually became the Head Bartender at Dandelyan in London. Upon opening, it was named the 'Best New International Cocktail Bar' of 2015 at the Spirited Awards and moved 47 places to No.3 in the 'World's 50 Best'. in 2016, it took the title of 'World's Best Cocktail Menu'. In the 2017 Spirited Awards it won 'Best International Hotel Bar', 'Best International Bar Team', and 'World's Best Bar'.

Kelsey went on to win the title of 'Global Champion' for a well-known tequila cocktail competition in 2016 and continues to speak about sustainability, tequila and equality issues in our industry, around the world.

IAIN GRIFFITHS

Iain Griffiths is the co-founder of Mr Lyan Ltd where, alongside Ryan Chetiyawardana, the pair has led the company to a string of success in the last five years.

They were awarded 'co-Innovator of the Year' at the Imbibe Awards 2014 and later that year White Lyan was crowned 'Best New International Cocktail Bar' at the Spirited Awards and then placed at no.20 in the 'World's 50 Best Bars'. From there, Iain opened Dandelyan, where he and Kelsey met. In 2017, he took the title of Bartenders' Bartender at the World's 50 Best Bar Awards.

In late 2016, Trash Tiki started as an online platform. By January 2017, plans for a global tour were being pulled together.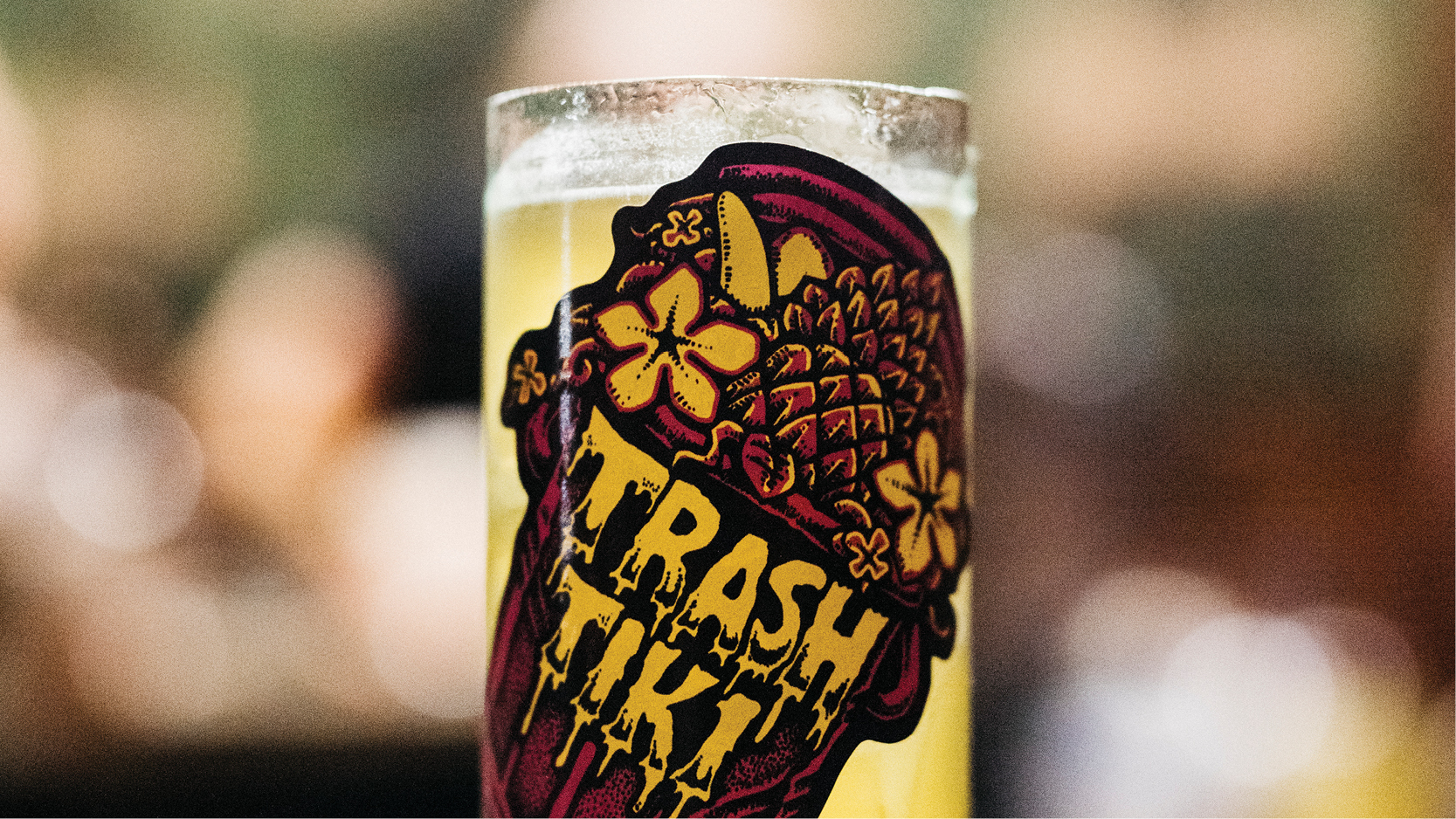 TRASH TIKI BIO

Trash Tiki, toured the world, educating bartenders on anti-waste spreading the word and creating a movement. How was it done? All while hosting punk pop-ups, and education sessions in close to 58 cities across the globe.
This was the start of the movement (which is now more than a 'trend' but a staple in the every day operations of industry venues) and is all due to being the brainchild of bartenders and now recently bar owners as well as pretty darn influential people in our industry: Kelsey Ramage and Iain Griffiths.

Throughout this tour, and what we are sharing below, the produce in all of their drinks is made from would-be waste ingredients; stuff from kitchens, bars, coffee shops, and commercial businesses that all contribute to the global food waste issue. They're aim is to inject some fun back into the topic of "sustainability," with an inherently punk attitude, a playlist best turned up to 11 and an open-source website with all of their recipes so that everyone can be involved.

For more info check out www.trashcollective.com (used to be www.trashtikisucks.com)

POWER OF LOCALITY

Since its inception, the focus has always been to reduce waste by making use of ingredients already available, and a major part of that is simply by looking outside of your front door. The 'Power of Locality' tour in Australia and New Zealand, saw the dynamic duo create drinks from an array of ingredients available locally in their usual tiki-punk style, and partnered with some of the best chefs around Australia.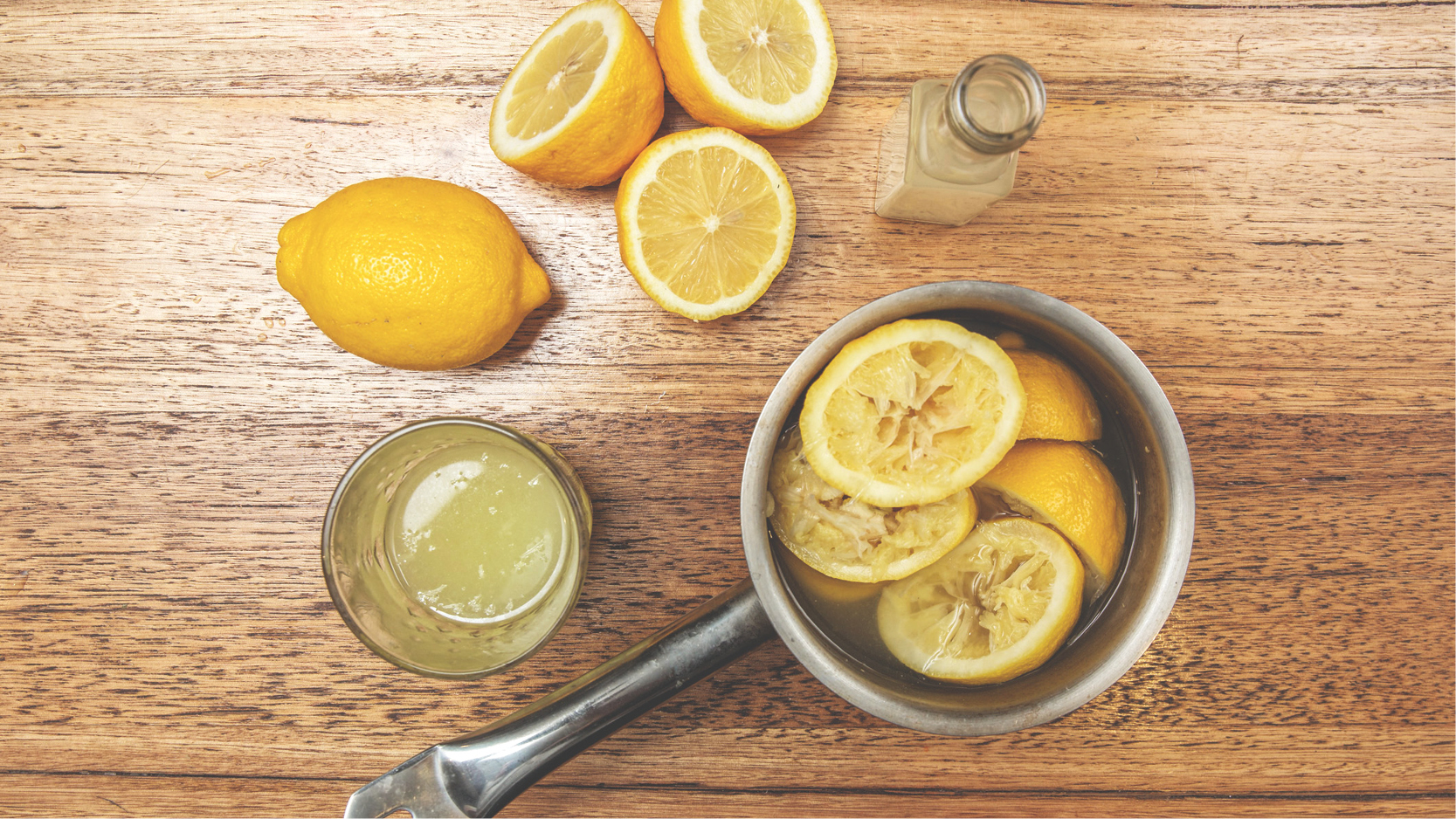 CITRUS STOCK

Citrus is like the final frontier of modern craft cocktail culture. First off, it was about the truly 'classic' bars that used freshly squeezed to order, Then as the movement spread and fresh reached bigger volume bars the question was about how long fresh could last so that 'to order' could be done away with in the name of speed of service.

Now, as the industry awakens to the fact that we need to stop f*cking the planet with every daiquiri and tom collins we make, citrus is once again front and centre. this time, because it is by far the biggest waste product of any craft cocktail bar.

A quick note just to say: please always make sure you're using organic citrus! It's the best way to make sure your fruit hasn't been tampered with or someone hasn't tried to play god with it.

Always be sure as well to wash your citrus before juicing to make sure all you're squeezing out is fresh, juicy goodness.

This recipe can be applied to any type of citrus and we mention on the next page some simple changes you can make to accent different flavours.
You'll need:
1 x Hotplate, induction hob or the like
1 x High sides pot (a lid helps here too)
Large strainer, super bag, chinois or whatevs
Tongs
Measuring jug & scales
White sugar
Citric & malic acid
Water
Citrus husks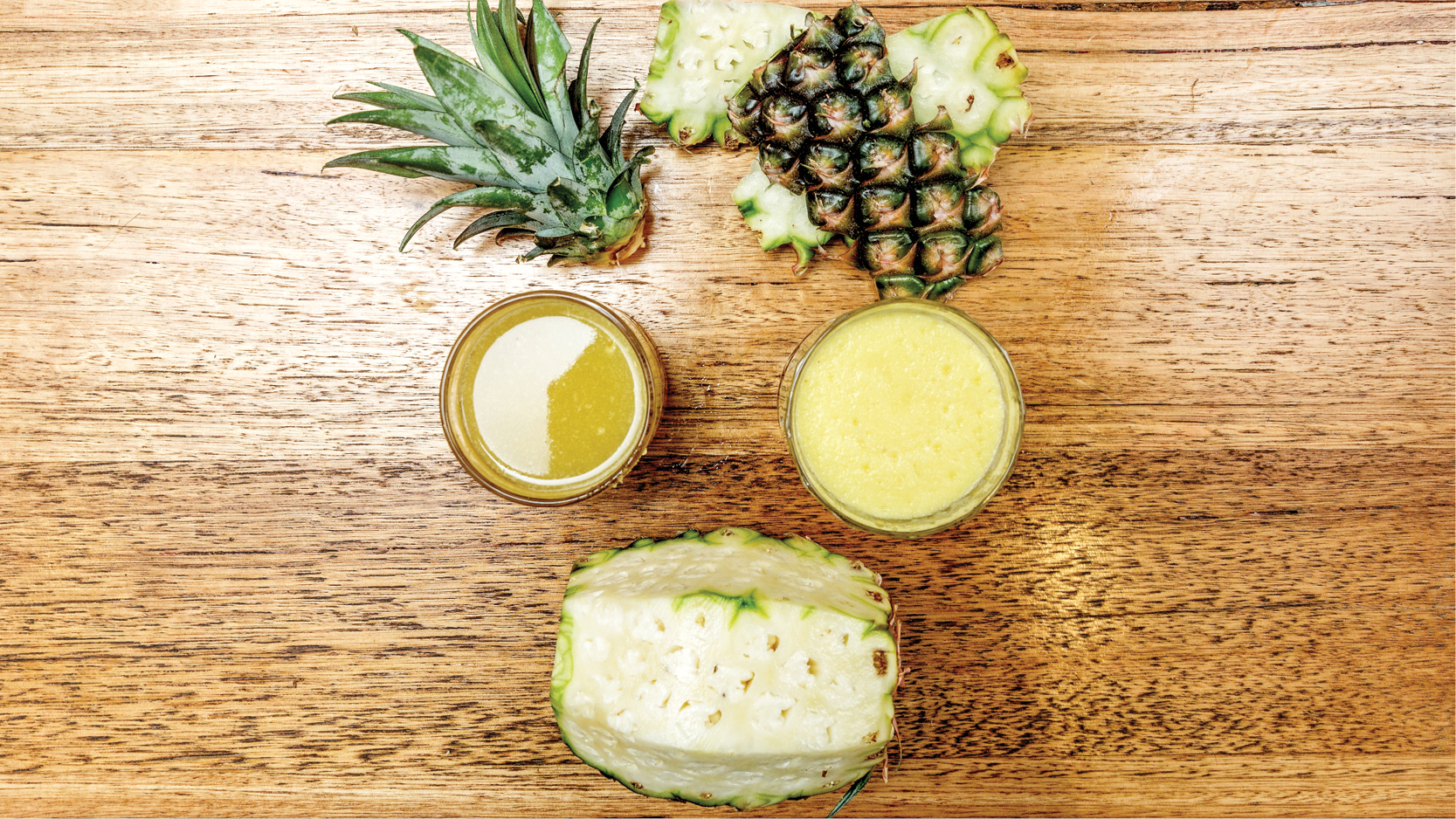 WHOLE PINEAPPLE & TEPACHE

Let's face it, the one thing that bars need a lot of is juice. Particularly in the tiki business. By way of this fact, we often end up with loads of pulp, rinds, leaves and other scraps that would otherwise get chucked in the bin.

But there is so much flavour in that stuff!

A mega problem bars have is the sheer volume of the sh*t. Get this, juice five pineapples and you'll probably wind up with more pulp than you do juice. You already have a pineapple flavour in your drinks, so let's do something more interesting! And let's use every last bit of that pineapple.

THE TRASH TIKI WAY

Start by Dividing a pineapple into all its parts

Leaves - Don't trash them, use as a garnish or as a bittering agent in a cocktail by muddling it into a drink

Pineapple pieces - Juice them or just eat them!

Pulp - This can be blitzed with sugar and water, and strained as a cordial

Skins - The most exciting part. Add yeast, sugar, water and spices, and get your ferment on to create a tepache

Trash Tiki Tepache:
1 Pineapple - rinds, pulp, core - whatever. If you have juice that you can't use at the end of the night, lob that in there as well
1L Water
1 Cinnamon stick
5 Cloves
20 Allspice berries
1g (ish) Yeast
250g Sugar
Lob it all in a container and leave for three-five days at room temperature. Don't let it go below 20 Celcius (consistency is the key here!). Cover it, but DON'T SEAL IT

Leave it to ferment - The longer you leave it, the more sugar the yeast will consume and the dryer it will be

A Little tip - keep back a little of the pulp and juice together with a fresh bump of sugar; this becomes what's known as the 'mother' and you can add a touch into the next batch to get it moving quicker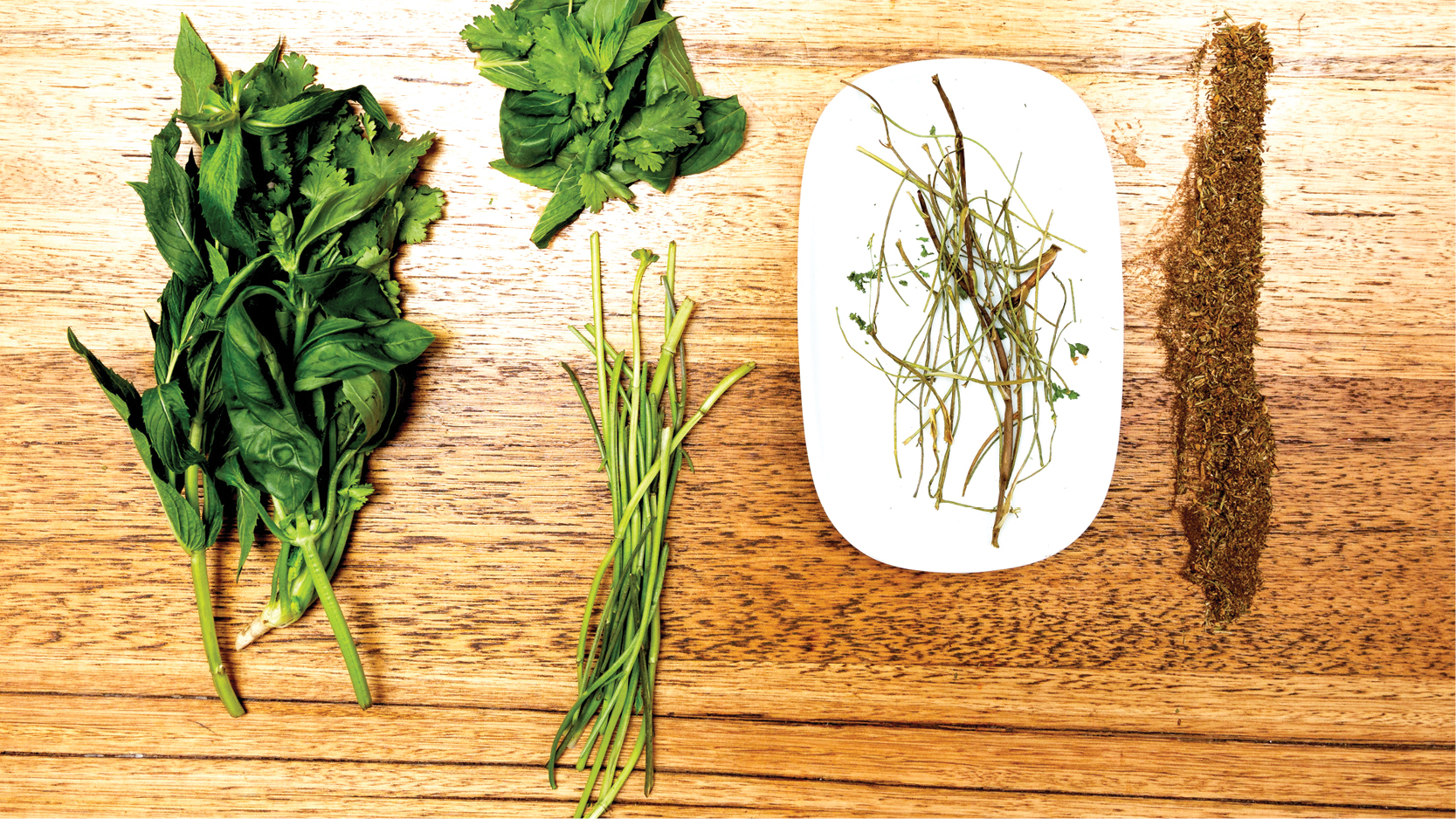 HERB STEM SEASONING

Herb Stems - how many times in life have we bought a bunch of coriander, thinking that once we've made our tacos for the evening (and maybe
used six leaves of it), that we'll totally be cooking at home the rest of the week.

Similarly in bars, how many of us have been stuck picking the leaves off the mint for TWO hours (for one or MAYBE two different drinks) only to turn around and chuck all of the stems.

We have news fellow minimal wasters, those stems that weigh more than the leaves themselves (and we buy by weight!) actually pack the same amount of flavour. So here's a recipe to lengthen that overnight use by date. Once it's done, it can then be mixed with sea salt and used as a rim for cocktails, or infused into a simple sugar syrup and used either alongside fresh or as a substitute for mint.

This way, you'll end up using less mint, and it will be shelf stable for up to a week!

You'll need:
Bunch of leftover herb stems
Oven or Dehydrator
THE TRASH TIKI WAY
De-leaf and separate the leaves from the stems
Dehydrate the stems in an oven
Spread the stems evenly in a dry baking pan or on a dehydrator rack. Turn onto a low setting (about 90C) or as low as your oven will go. Leave for about two hours but check back frequently as time will depend on thickness and density of stalks. Do not leave them and forget, As once they are TOO dry they MAY catch fire
Blitz stems into a powder
The Powder can be used as a seasoning at any time, as a Whiskey infusion for your juleps, or with salt as a cocktail rim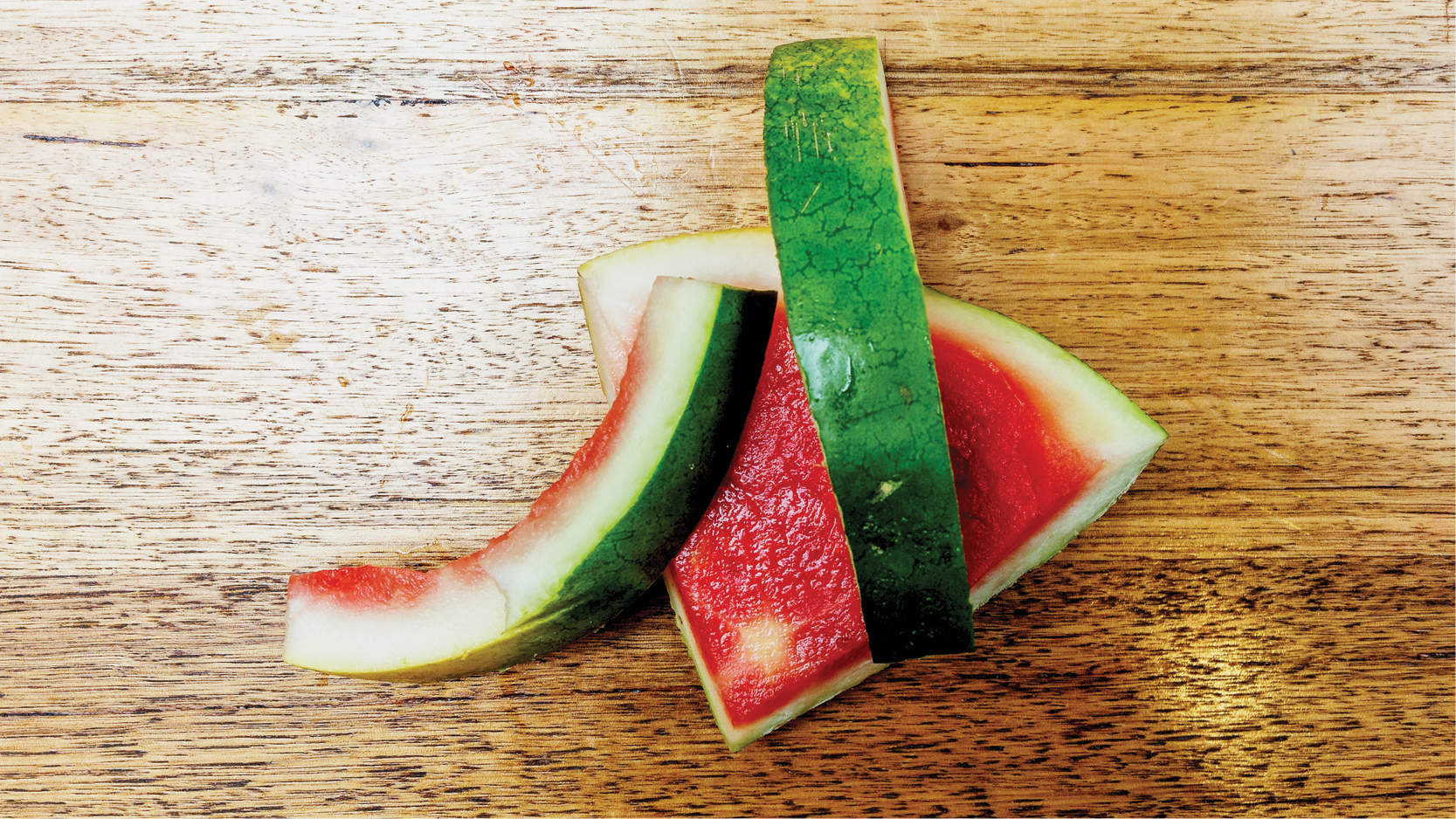 WATERMELON WINE

One of summer's favourite flavours winds up in everything from mojitos to margaritas, however, what every watermelon has in common is that the pink flesh goes off quickly, it doesn't sit very well in drinks, and of course, the rinds get thrown out every time.

What the rind has though, is a ton of flavour that often gets overlooked. The delicious juice is used loads, but the rind gets chucked.

So here ya go, a recipe for that rind that's tried and tested. Do make sure you wash them first of course, and if some of the pink flesh is left on that's no biggie.

WATERMELON WINE

One of summer's favourite flavours winds up in everything from mojitos to margaritas, however, what every watermelon has in common is that the pink flesh goes off quickly, it doesn't sit very well in drinks, and of course, the rinds get thrown out every time.

What the rind has though, is a ton of flavour that often gets overlooked. The delicious juice is used loads, but the rind gets chucked.

So here ya go, a recipe for that rind that's tried and tested. Do make sure you wash them first of course, and if some of the pink flesh is left on that's no biggie.

THE TRASH TIKI WAY
250g Watermelon rind
750ml Dry white wine
50g Granulated sugar
Cut watermelon rinds into two-four inch pieces and lob in a cambro or large container
Cover with wine and sugar, seal the container and leave in a refrigerator for 12-24 hours
The next day, put the mixture through a blender or vitamix and blend until the sugar has completely dissolved. Take out and strain through a mesh strainer and then through a superbag
Store refrigerated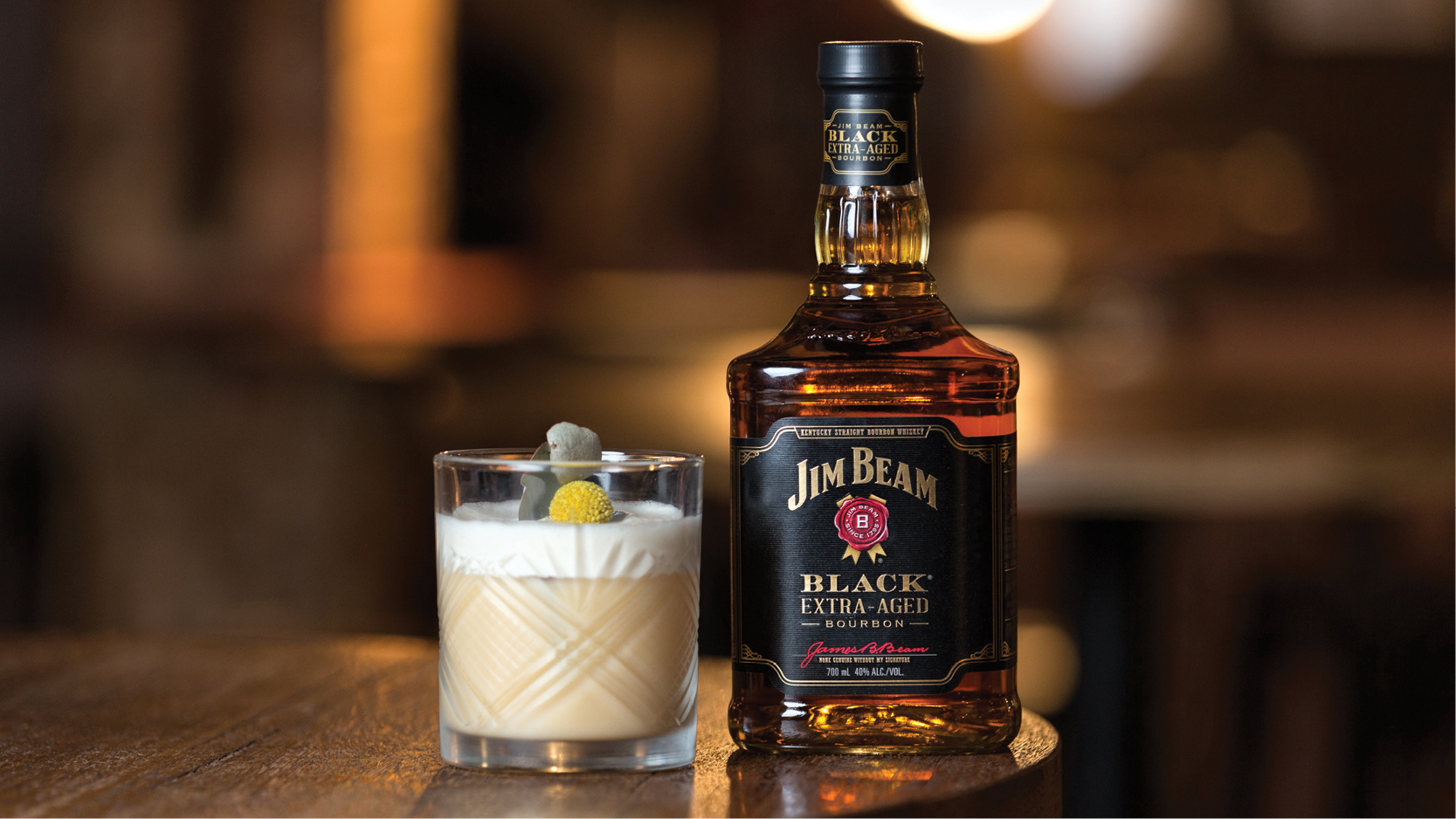 BLACK & TAN SOUR

Ingredients
60ml jim beam black label
20ml Honey cream
5ml Roasted wattle seed syrup
7.5ml Lemon juice
7.5ml Lemon stock

Native Garnish

Method
Add all ingredients with ice
Blend mixture
Strain over ice

THE Trashed ingredients
Whey
Lemon husks
Egg yolks

HONEY CREAM

Ingredients
250G Egg yolks
250ml Whey
250ml Honey
1L Measuring jug
Stick blender

METHOD
Add all ingredients to the one vessel
Blend and store cold

ROASTED WATTLE SEED SYRUP

Ingredients
2g Dried wattleseed
750ml Water
750g Caster sugar

Method
Grind wattleseeds and add to a hot pan to lightly toast them until aroma is released
Add them to water and bring to a boil
Remove from heat, add sugar and allow to infuse for two-three hours before straining through a superbag or cheesecloth

JIM BEAM BLACK LABEL

This tasty liquid is extra-aged in the barrel to give the bourbon a fuller flavour that takes on some great winter spice notes such as cinnamon and nutmeg.

Tasting Notes

Colour: Dark amber
ABV: 40%
Nose: Rich with vanilla, oak, spices and freshly baked banana cake
Palate: Velvety texture with vanilla and cinnamon, nutmeg spices with tropical fruits
Finish: Vanilla and caramel sweetness with cinnamon spice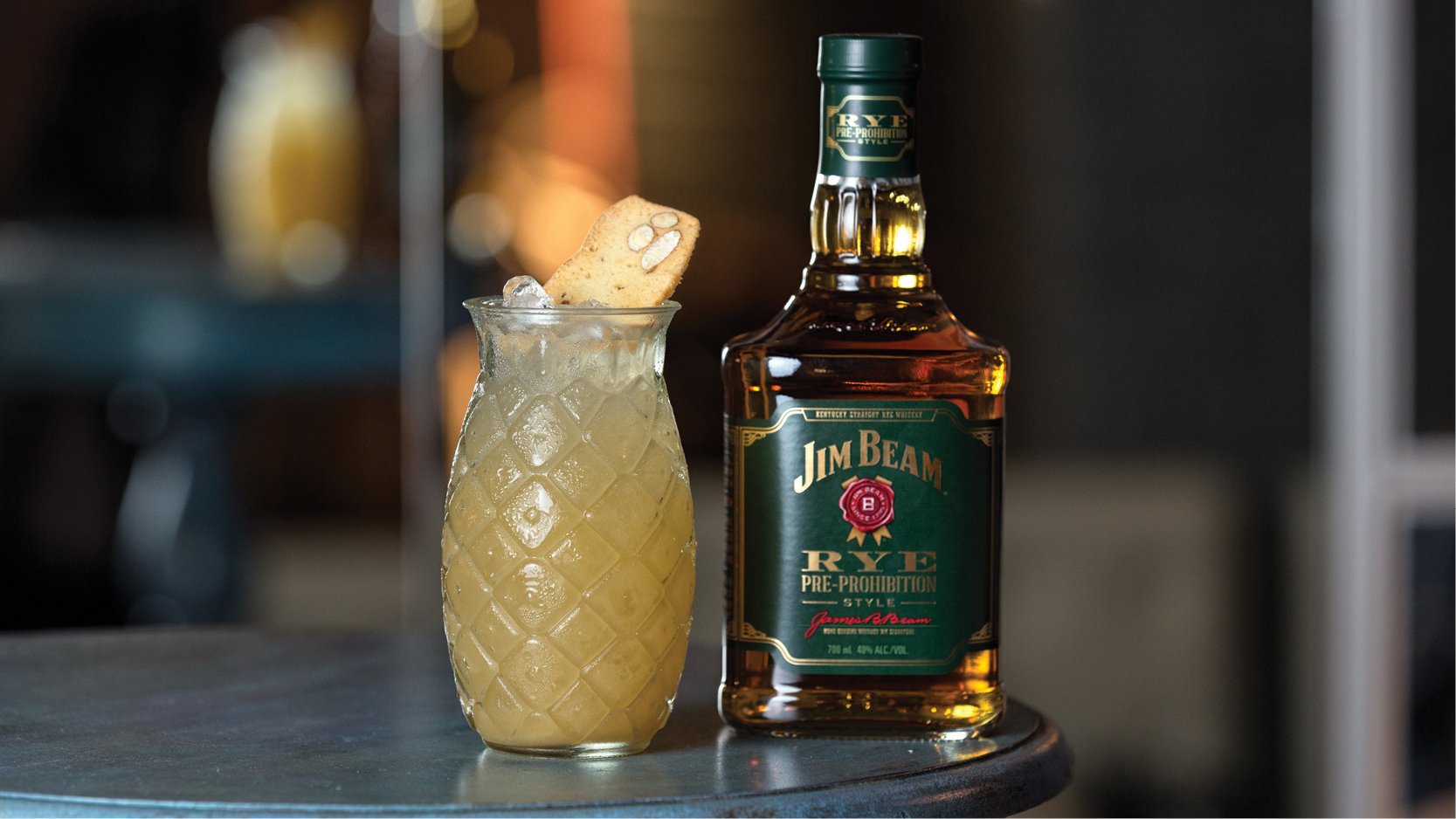 ELIMBAH LUAU

Ingredients
30ml Jim Beam Rye
30ml Courvoisier Cognac
10ml Pineapple tepache
10ml Macadamia/ avo nut orgeat
15ml Grapefruit stock
5ml Lemon juice

Garnish

Almond biscuit

Method
Build all ingredients
Top with crushed ice

THE Trashed ingredients
Pineapple skins and pulp
Grapefruit husks
Spent macadamia pulp

MACADAMIA/AVO NUT ORGEAT

Ingredients
3 Avocado pits
10g Smoked macadamia nuts
750g Caster sugar
750ml Water

Method
Clean and thoroughly dry your avocado pits
Blitz until pretty fine and consistent or grate with a microplane
Over medium-high heat in a dry pan, give them a medium toast moving them around in the pan constantly until they turn bright orange and toasted. Remove from heat.
Add macadamia nuts to the blender and give a flash blend.
Add your toasted pits and macadamia nuts to sugar and water and stir until sugar is fully dissolved. Leave to infuse overnight. Next day, blitz the mixture in the Vitamix or blender and strain through a superbag.

JIM BEAM RYE

Jim Beam Rye pre-prohibition style whiskey is made with 51% rye, bringing a spicy yet subtle flavour to the Whiskey.

The use of rye ensures the liquid is drier, spicier, but also lighter in flavour than other bourbons.

Tasting Notes

Colour: Light amber
ABV: 40%
Nose: Lemon zest, light pepper with apple aromas
Palate: Gentle spice with shades of mint and apples with a slight sweetness
Finish: Clean and spicy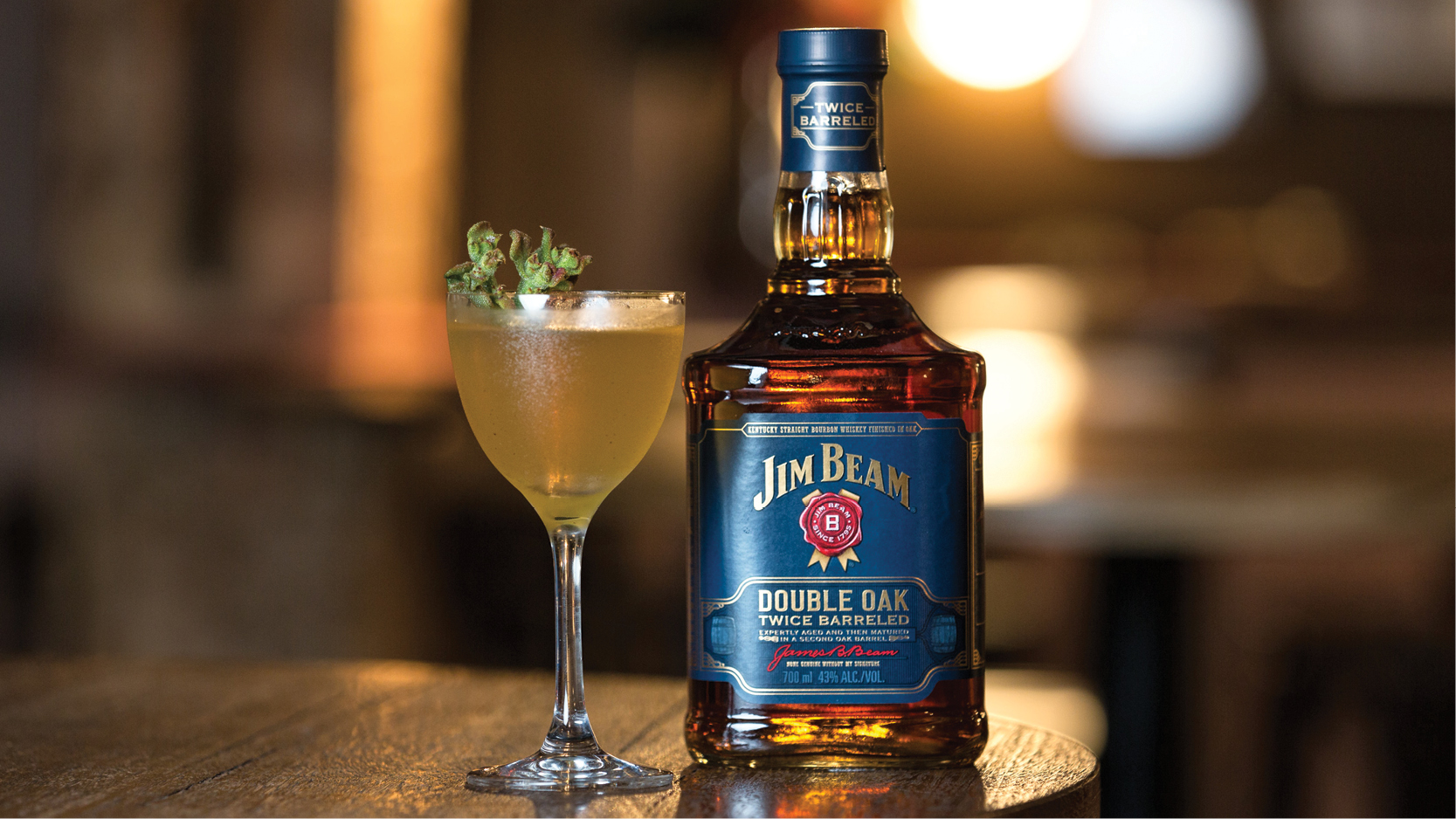 D&D GIMLET

Ingredients
60ml Jim Beam Double Oak
15ml Aged lemon aspen cordial

Native Garnish

Method
Add ingredients to a mixing glass
add ice & stir
strain & garnish

THE Trashed ingredients

LEMON ASPEN CORDIAL

Ingredients
1000ml Frozen lemon aspen
2250g Raw sugar
500g Boiling water

Method
Remove lemon aspen from freezer and allow to thaw
Add sugar and boiling water to mixing tub and stick blend until sugar is broken down and mostly dissolved
Add lemon aspen once at liquid consistency. Stick blend until sugar is fully dissolved
Add to a small barrel and age at room temp for four weeks.

JIM BEAM DOUBLE OAK

The liquid is aged in one barrel then transferred into another barrel for a second maturation, providing greater contact with the flavour-giving char.

This results in richer, woodier flavours that are more refined than other whiskies.

Tasting Notes

Colour: Golden Amber
ABV: 43%
Nose: Rich notes of caramel and vanilla with hints of toasted wood
Palate: Intense caramel and toffee flavours with a distinctive spiced darkness
Finish: Long, warm and perfectly balanced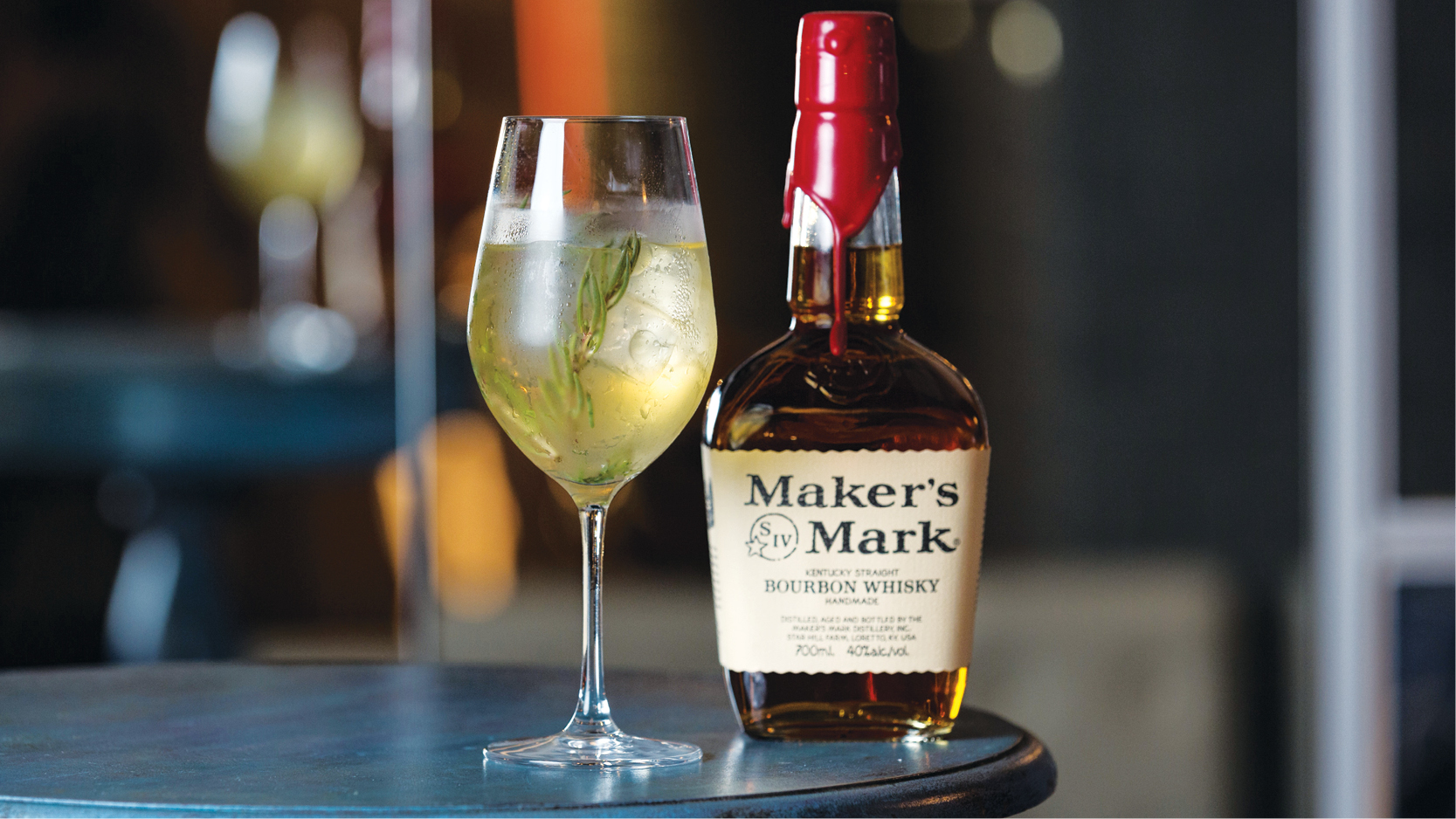 TRASHED SPRITZ

Ingredients
30ml Maker's Mark
25ml Watermelon wine
25ml Cider

Native Garnish

Method
Build
add cubed ice and stir

THE Trashed ingredients

MAKER'S MARK

Unchanged since its inception, Maker's Mark is handcrafted from start to finish. The traditional spicy rye is replaced with red winter wheat producing a uniquely full, yet soft and smooth flavour.

Tasting Notes

Colour: Deep amber
ABV: 40%
Nose: Woody oak, caramel, vanilla and wheat prevail on the nose
Palate: Sweet and balanced with caramel, vanilla and fruity essences
Finish: Smooth and subtle