Firstly, what is a Maker's Mark Diplomat you ask?
Distillery Diplomats are Maker's Mark and category experts, who are committed to winning the hearts and minds of consumers, and hospitality professionals. They instil passion for our award-winning craft bourbon through education, brand immersive experiences, and most importantly, authenticity.
They bring the experience, heritage, and distillery to life in other markets and now in Australia and New Zealand through brand building and storytelling.

INTERVIEW WITH RHIANNA LUCAS: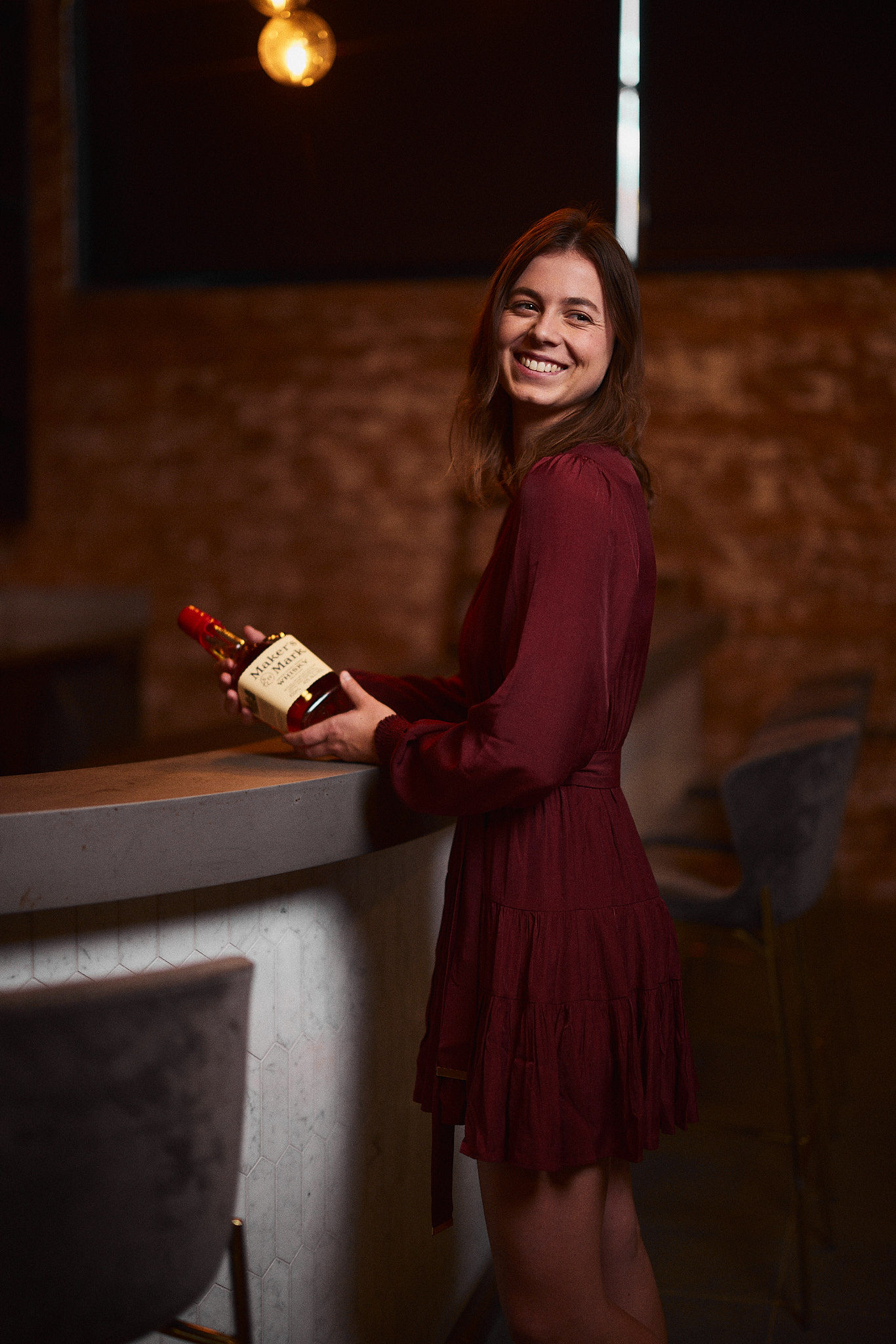 Share and enlighten us with your career journey to this date, and how you became Australia's first Maker's Mark Diplomat?
My passion for the drinks and hospitality industry started early on in my life.
At 17 years old I started waitressing in a small cocktail bar in Cronulla and was very lucky to be working with two managers that passed on their love of the hospitality craft.
At 18 years old, I was being taught the value of proper service.
I poured Belgian beers at the table, into their correct, branded glass and was taught why this was so important to the customers drinking experience. I knew how to match different whiskies with different occasions. I fell in love with Tripel Karmeliet and Chimay Grand Reserve…. And I fell in love with Maker's Mark. I was served a Maker's 46Old Fashioned on my 18th birthday and felt the passion for the brand that the person serving me had, and from there I was hooked. It was love at first sight.
I then moved into a Venue Manager role, running The Vanguard in Newtown.
Here I was able to combine my love for live music, beer, and whisky into one place, with my favourite thing to do after clocking off would be going through the back bar and tasting all the whiskies on the shelf.
Perks of the job, right?!
While working at The Vanguard, I was approached by Lion Nathan to apply for a role in their craft beer sales team. I jumped at this opportunity and found myself working a hybrid role as both a Business Development Executive and Assistant Brand Manager. I became absolutely obsessed with beer, and quickly studied for and achieved my Certified Cicerone® qualification and moved into the role of National Craft Beer Ambassador.
Educating both trade and consumers on craft beer is a huge passion of mine and having the opportunity to do this through training programs, events and activations was incredible. I was with Lion for four years before seeing the newly created role for the Australian Maker's Mark Diplomat, and I was over the moon!
With Maker's Mark being such an important whisky to me and my story, I couldn't wait for the chance to be a part of the Maker's Mark family!
_____
What inspired you to pursue a career in the Whisky industry, and why with Beam Suntory.

I have been following the work of Beam Suntory and The Blend for a long time, and I have always thought that Beam Suntory runs the best brand advocacy and education program in the country.

The chance to join a company that champions and supports the continued education of the hospitality industry, gives back to the community, and values the integrity of their brands like no one else was incredibly attractive.
_____
What are you most excited for about in your new role as a Maker' Mark Diplomat?
Whisky evokes memories, stories, feelings. You have a glass of whisky and are transported back to the last time you shared that dram, and remember who you were with, what you were doing, and you create new moments. Smell and taste form such an important part of our connection to people and places, and by sharing a whisky with friends you cement that moment forever as associated with the aroma of that whisky.
Maker's Mark has accompanied me through some of the best times of my life, from my early years in hospitality, to sharing whiskies with my dad, to unforgettable times with friends.
Now as the Diplomat for Maker's Mark, I know that I am creating these fond memories and experiences for every person that I have the opportunity to spend time with, and that really excites me.
Having the honour of taking someone through the journey of Maker's Mark and hopefully leaving them feeling something, feeling connected. That truly lights me up.
_____
What exciting plans have you to educate and engage trade and consumers about the whiskies you represent?
Maker's Mark and Beechworth Honey have just launched a brilliant partnership to be a joint force for good in the world.
We're teaming up to educate both trade and consumers about the importance of sustainability and environmental stewardship for not only the future of our planet, but in creating better quality whisky!
Right now, we are calling all hospitality professionals to get involved and implement sustainable practises in their venues, and offering twenty hospitality professional the opportunity to come down to Beechworth and spend time with Maker's Mark and Beechworth Honey to learn more about what we can collectively do to ensure the sustainability of our land (and our bourbon!). If you'd like to read more about this, click here!
I'm looking forward to sharing the Maker's Mark story with as many people as I possibly can!
We've got some exciting things being announced over the next few months for the trade, and some very exciting consumer events coming up as well. I'm buzzing to get out there and share the incredible bourbons Maker's Mark crafts with trade and consumers alike.
_____
What do you think sets Maker's Mark apart from other Bourbons in the market?
First and foremost, Maker's Mark bourbon is unique, after all we were named the most important bourbon in the world!
When Bill Samuels Snr burnt his family recipe and went against the grain of what whisky was back in 1953 by using Soft Red Winter Wheat in the mash bill, he immediately set Maker's Mark apart from other American whiskies.
Following this guiding light of doing this differently to create something better, Maker's Mark continues to be industry leading in its approach to progress and preservation. We are actively creating bourbon that betters the world, and we do this in many ways. Through our work with regenerative farming, we are ensuring we are not only protecting our environment but producing better grain to make more flavourful whisky.
We have the world's largest repository of American white oak, which is allowing us to genome map the oak trees in an effort to conserve and secure the future of the American white oak tree, which will ensure we can continue making bourbon for generations to come. And of course, we are the largest B-Corp certified distillery in the world, showing our commitment to the land, our people, and the community. These things set Maker's Mark apart from other bourbons in the market, and they inspire and energise me to spread the word of Maker's Mark.
_____
How do you stay up to date on industry trends and new developments in the whisky world?
To be transparent, my entire world is the alcohol industry!
I probably follow every industry publication there is, I read plenty of magazines to keep up with the latest trends and issues, I tune in to podcasts like Drinks at Work by Boothby for hospitality, Drinks Adventures for spirits, Brews News for beer... the list goes on.
I'm also an avid reader, I love to read books on both the technical side of whisky distilling and production, to the more romantic books about the history of brands and distilleries. And of course, keeping engaged with the trade is so important. It's my role to support and service the trade, to educate in an authentic way that nurtures their creativity and fills their needs, so being connected is a great way to keep up to date with trends and issues in the industry.
_____
What advice would you give to someone who I interested in pursuing a career as a whisky ambassador?
Be passionate. Be excited. Be curious!
Immerse yourself in the industry in any way you can, whether that's through reading books about the history of the whisky you love, keeping up to date with industry podcasts and magazines, exploring different whiskies, or attending education sessions with other ambassadors.
The key is to truly love what you do and chase that passion every day.
_____
You just returned from the Distillery, for a 2-week onboarding experience, what was the highlight of the trip you can share with our audience?
It would have to be sharing a Maker's 46 with Bill Samuels Jnr.
It was like coming full circle. From drinking that very first Maker's 46 Old Fashioned on my 18th, to standing with the creator of the whisky, in his home, sharing a Maker's 46 on ice while he told stories about the first ever bottle of Maker's Mark that was produced (which was on the shelf behind us, by the way).
It was just one of those pinch me, "how did I get here?" moments that I will never forget.