Foraging and sustainable living: The Isle of Man DNA
Growing up on the Isle of Man, foraging and sustainable living is very much in our DNA. We make great use of the products that naturally flourish around us. But as a community, we're also adopting advanced techniques pioneered by the global hospitality industry.
Such as reducing our import and dependence on limes, which have a huge journey and carbon offset before making it to our door. We do this by extracting the oils from lime skins, using a blend of natural acids. This mixture is then lengthened with water, to a balance that replicates traditional lime juice, using 75% less lime!
Further afield, fellow islanders are also making an impact to celebrate the abundance of local produce. In this video, I interview three Manx hospitality operators who are leading the pack in this department.
The first is Marybeth Coll, who runs a seaside fruit-based winery. Using varieties that thrive here such as rhubarb, apples, honey, and elderflowers. There is also Phil Taylor. Having been part of the Island's hospitality scene for over 10 years, Phil has seen the Island's industry grow greater and greener. Lastly and most definitely not least, Pippa Lovell. Pippa operates a restaurant with sustainability at its core. She and her team forage everything they serve. This was recognized globally with Pippa's nomination in 2020's Forbes 30 under 30 alongside a host of other industry accolades.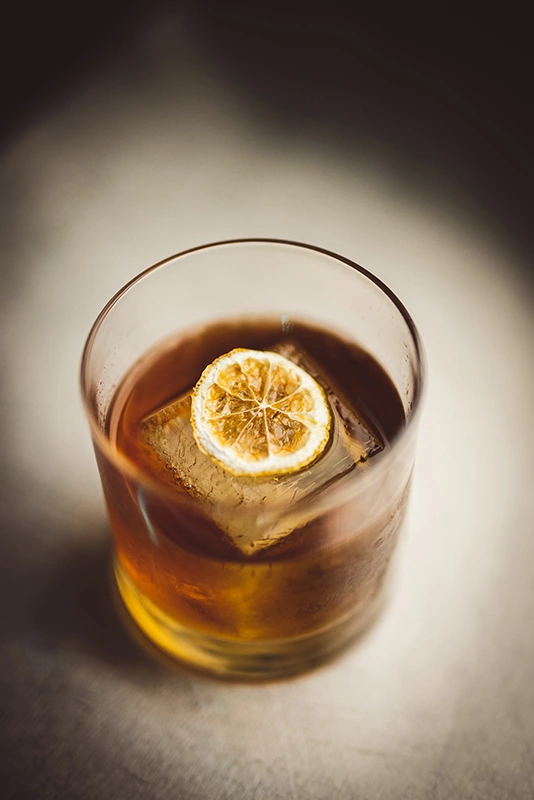 Traa Dy Liooar
by Drew Fleming
INGREDIENTS:
45ml Courvoisier VS
10ml FV Manx Apple Port-Erin
15ml 2:1 Demerara Syrup
2ml Dr. Adam's Teapot Bitters
METHOD:
Combine all ingredients in a mixing glass and stir over cubed ice. Strain into a rock over fresh ice and garnish with dehydrated citrus.
GLASSWARE:
Rocks Glass
GARNISH:
Dehydrated Citrus